Creamy Cucumbers: Perfect Summertime Side Dish
A Farmish Kind of Life is a participant in the Amazon Services LLC Associates Program, an affiliate advertising program designed to provide a means for sites to earn advertising fees by advertising and linking to Amazon.com. You can view our full affiliate disclosure here.
Creamy Cucumbers are one of our first and favorite things to make when our garden cucumbers are ready to pick. We make this recipe by bucketfuls at a time, and when creamy cucumbers are in the fridge, they are eaten at practically every meal.
Creamy cucumbers are a great choice to bring to a summer picnic, although if my husband or I are there, no one else will get to eat any. So you know, maybe bring two bucketfuls.
There are many different ways to make creamy cucumbers, from what you include in the sauce, to the proportions, to adding things like green peppers to the mix. Our way of making them is pretty simple, and I've done it so many times that I could probably make it in my sleep.
Ingredients for Creamy Cucumbers
As many (peeled and thinly sliced) cucumbers as it takes to fill an ice cream bucket 3/4 full
2 onions, thinly sliced
1 pint sour cream
4 Tbsp white vinegar
4 Tbsp sugar
2 tsp salt
Instructions for Creamy Cucumbers
First, fill an ice cream bucket almost 3/4 way with sliced cukes and onions. (We put two onions in, but we like our creamy cukes with a lot of onions. If you're not a fan, only use one onion or leave them out completely.)
Next, make the sauce. Whisk the sour cream, sugar, white vinegar, and salt together until it's smooth(ish).
Pour the sauce over the cukes and onions in the bucket.
Some people say to just pour it over and let it sit, others say to toss the cukes and onions around in the sauce a bit. We stir it up.
Now, you might not think this amount of sauce is enough for all those onions and cukes.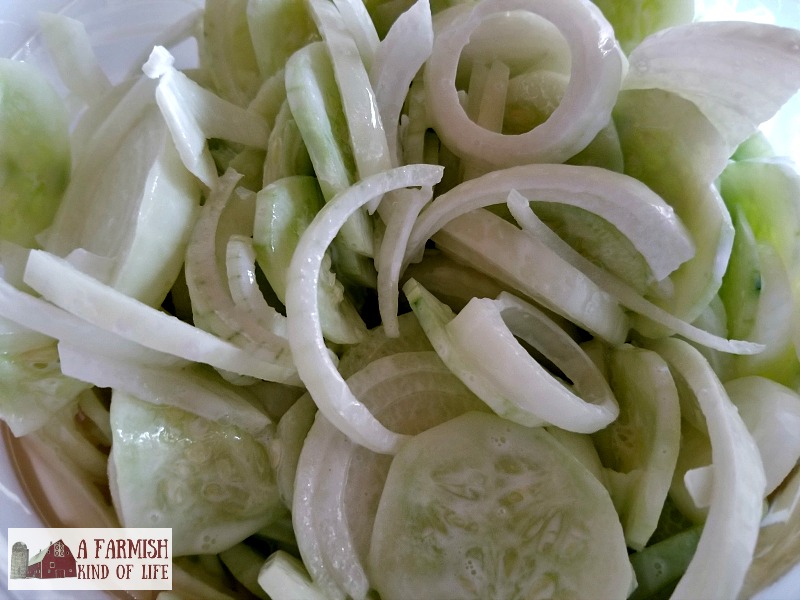 Trust me, it is. Because the next day—after we'd eaten a lot of the bucket already—this is the amount of sauce that was sitting in the bottom….
So put the sauce on the cucumbers, put the bucket in the fridge, and let the sauce do its magic thing for a couple hours. After the cukes have sat in the sauce for a couple hours, it's all ready to serve!
Creamy cucumbers are the awesomest. They're great as a side dish, something to bring to a summer picnic…or perfect for eating by the bowlful when you need something tasty in your belly.
They're so simple to make, and in my humble opinion, that makes them even tastier. Enjoy!
Creamy Cucumbers
A perfect side dish for a summertime picnic...or a great treat to have any time!
Ingredients
As many

cucumbers as it takes to fill an ice cream bucket 3/4 full

(peeled and thinly sliced)

1-2

onions

(thinly sliced)

1

pint

sour cream

4

Tbsp

white vinegar

4

Tbsp

sugar

2

tsp

salt
Instructions
1. Place all sliced cukes and onions in ice cream bucket.
2. In a separate bowl, make the sauce. Whisk the sour cream, vinegar, sugar, and salt in a separate bowl together until smooth.
3. Pour sauce over cukes in bucket, stir to coat well. Let sit in fridge for a couple hours.
Looking for other summertime treats? Check out my recipes for Strawberry Rhubarb Slush, or Sour Cream Rhubarb Cake!
Subscribe to my Farmish Kind of Life podcast at iTunes, Stitcher, Google Play, PlayerFM, or other popular podcast players. All episodes of the podcast will also be linked under the podcast tab that you can find way at the top of this post in my menu bar.
---
---