How to Make Cuts of Meat: Butchering a Pig at Home
A Farmish Kind of Life is a participant in the Amazon Services LLC Associates Program, an affiliate advertising program designed to provide a means for sites to earn advertising fees by advertising and linking to Amazon.com. You can view our full affiliate disclosure here.
Processing a hog at home certainly takes time, but it's not difficult. We process all of our home-raised meat here at the farm. A common question we get when doing large animals is how do you know what cuts of meat come from where on the animal?
Hopefully I can help clear that up for you with this post.
If you're looking for information on the first part of the pig butchering process (dispatching, skinning, gutting, halving, and hanging) you can find that by reading my post How to Butcher a Pig.

If you've ever processed another large animal (like a deer), don't stress! You're going to have an advantage going into this process. In many ways, a pig is just like any other large animal you may have already worked with.
To make the cuts of meat properly, it sometimes helps to have a vision of how a pig is put together. Thanks to my son for making this lovely graphic.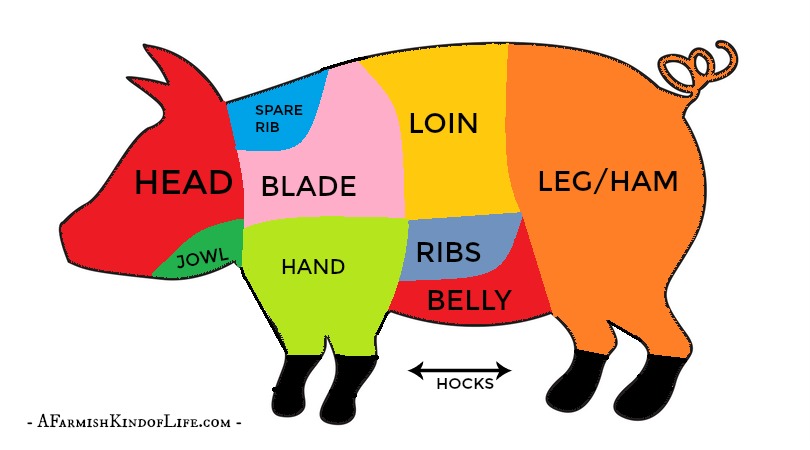 Now that you understand that, let's do this!
Cuts of Meat: Start with the right tools
Before you get into the cuts of meat, you'll want to make sure you've got a super sharp set of knives to work with. We like this processing kit by Outdoor Edge, and we keep the knives sharp with this electric knife sharpener.
Before you make those cuts of meat, get to work on that pig fat!
With the right tools, you can now start by trimming off some of the pig fat. The breed of pig and how large you've allowed them to get will determine how much fat is on your pig.
Don't get rid of that fat, though! That's what you can make lard with! Cut off hunks of fat and package it for the freezer until you're ready to render lard.
We double bag all our fat in thick garbage bags, put the bags in a cardboard box, and then put the box in our chest freezer.
Let's get to the cuts of meat already.
Ready to do this? Let's get half a hog on the table.
First, we separate the front shoulder from the ribs.
Then we will do the same with the back leg. Here you can see the hog separated into front shoulder, middle section (ribs, chops, and belly) and back leg (the ham).
Next, separate the chops from the belly.
We're starting to see some of the pieces!
This, my friends, is where the bacon comes from.
The ribs need to be separated from the bacon "square". The ribs are on top of the bacon.
Continuing to cut away the ribs…
Here is a rack of ribs…
..and here is my husband's hand, proudly laid on one giant slab of bacon!
I'd say he's got every reason to be proud! There is nothing like homemade bacon from a home-raised pig!
Now it's time to cut pork chops. Our first year processing our own pigs, we did bone-in pork chops. We cut through the meat with a knife…
…and used the meat saw for cutting through the bone.
Well, lookee there at that!
Ta-da! Pork chops.
Update: We no longer cut bone-in pork chops. And oh-my-word, these pork chops had a lot of fat left on them! Suffice to say, we learn something new every year.
For the front shoulder and back legs, we chose to cut smaller roasts instead of giant hams.
To do this, you just get your hands in there and follow the major muscle groups. Feel around for the natural separations in how the muscles are put together. Follow the separations to make roasts.
You'll end up with hunks of various sizes. If you're worried about where to cut, remember—it all tastes the same after it's cooked.
So, don't be afraid of how to cut the roasts. Making those cuts of meat is all about getting in there…
… and separating it into muscle "globs".
If you don't want all of that "roast meat" as roasts, you can certainly chunk it up for stew meat, or grind it to be packaged as plain ground pork or mixed up with some seasonings to make Italian, breakfast, or spicy sausage. After this post was first published, we added a stainless steel electric meat grinder to our set up, and it's awesome!
In case you're wondering, we wrap all of our cuts of meat in double layers of freezer paper—we buy the BIG ROLLS. And I'm always sure to add little sayings to each package. It's always fun to smile when you read the package later in the year.
So, there you go!
Now you have pork chops and ribs, as well as roasts (which you can totally cure, smoke, and turn into ham).
You've also got a slab of belly meat that's ready to be turned into bacon.
You've got a pile of pig fat to render as lard.
You've probably got some scraps too which can be ground with leaner meats like venison.
And remember—that was only half of your hog! Take a break, and repeat the process!
Here are a couple other butchering posts you might want to read while you're taking that break…
For the Love (and Butchering) of Animals
Death: It's Part of Life on a Homestead
---
---