How to Name Your Homestead
A Farmish Kind of Life is a participant in the Amazon Services LLC Associates Program, an affiliate advertising program designed to provide a means for sites to earn advertising fees by advertising and linking to Amazon.com. You can view our full affiliate disclosure here.
One of the most interesting things about a homestead is hearing how its name was chosen. Are you wondering how to name your homestead? Are you having trouble coming up with just the right name? Let me share with you the story of how our homestead got its name.
I lovingly refer to our farm as Clucky Dickens Farm. The name came from standing water in a flooded farmyard and a mix up of letters when someone suggested our chickens needed to turn into ducks and swim around the yard. They meant to say ducky chickens but it came out clucky dickens instead.
And it stuck.
Several years ago, my dad surprised me with this sign that he had a friend make. He snuck it on to our old corn crib while we were gone one morning, and it was hanging there to greet us when we returned home later.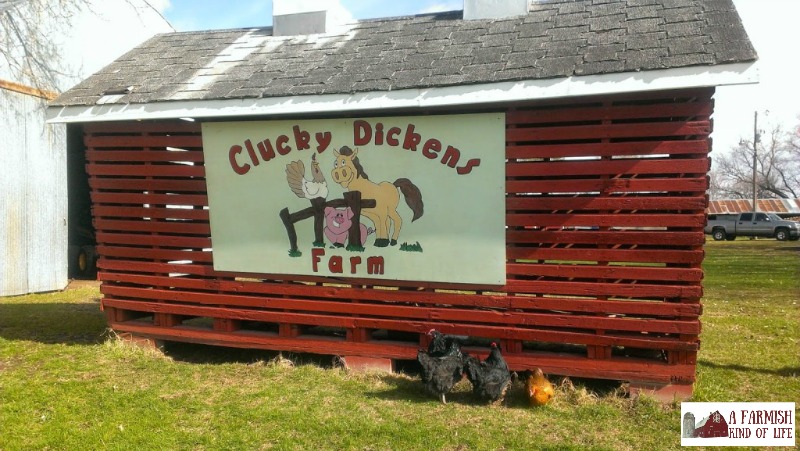 I sobbed like a little baby. And there weren't even onions nearby.
So. Are you wondering how to name your homestead? Here are a few tips.
How to name your homestead: It might be something you said.
Cheryl from Pasture Deficit Disorder says: Our land was a moonscape when we bought it, but we saw its potential. With hard work, lots of loving care and some well-timed rains, it came roaring back to life quickly. I had a picture of beautiful lush winter rye grasses in the Pasture on my bulletin board in my office. I looked up at it one day and said "I think I'm suffering from Pasture Deficit Disorder!" We've called our place The Pasture ever since.
Emily from Accidental Hippies tells: We first excavated our land to build our homestead when our son was just learning to talk. After the dozer came through, there were big rocks strewn all over and thick, clay soil as far as our son could see. Whenever we'd go up there as a family he'd look around and say, "Big, muddy rocks, Mommy!" It got to the point that whenever we were on the road and getting close to the property he'd holler out in his little toddler voice, "Mommy! We going to Big Muddy Rock!" The name Big Muddy Rock just kind of stuck and now everyone calls it that!
How to name your homestead: check the books and movies you love.
Charlotte from Walkerland says: Our homestead is lovingly referred to as Walkerland. The name is a play on our family name "Walker" and "Wonderland" from Lewis Carroll's Alice's Adventures in Wonderland. It's a playful expression of the leap of faith we took to pursue homesteading and leave the comfort of our existing world behind and the wonder and excitement that each day brings.
Jenn from Little House on the 100 Farm explains: We chose the name Little House on the 100 Farm because we love Little House on the Prairie and we have 100 acres. The original name of our blog was Little House on the Hundred Acre Wood after Little House on the Prairie and Winnie the Pooh, which are two of our favorites, but that's a long name and we needed to find something a little shorter.
How to name your homestead: look around your property.
Lacey from Sprout and Sprig explains: I wanted our farm to have either "cedar" or "barn swallow" in its name, because cedars are the predominant tree on our 40 acres, and because barn swallows are my favorite bird and they nest EVERYWHERE around the farm. But not a single one of the ideas I came up with felt right. Then, out of the blue, my husband suggested Middle Field Farm. It immediately sounded and felt right. The farm house, the garden and the majority of the pasture are all in the middle field of our property. There is a small lower field, and a large upper field, but both are fallow at the moment. So, Middle Field Farm it is!
Janet from Timber Creek Farmer explains: I wanted to come up with a name that combined the sawmill family background and business along with the tree farm area. Of course a large creek runs through the property, and feeds into the Severn River. After many combinations were tried out, Timber Creek Farm was the name we settled on. At the time I thought we were being so clever and unique. Come to find out there are quite a few other variations of this. One is a food supplier in the midwest. I often get messages asking if we have a particular food available or when the garden shares will be ready for pickup!
How to name your homestead: dig into your family heritage.
Anna from Salt in My Coffee shares: Ours is Wynterwood Farm & Forge. We wanted to tie into our family heritage somehow, so we used an old family name on my side that we've traced back to the 12th century. Somehow, the name just "felt" right as soon as we said it out loud, and it seems to fit our windy Maine mountain well.
How to name your homestead: where did you come from? What are you doing now?
Teri from Homestead Honey tells: Without a major river,creek, or other landmark to lend an obvious name, it was up to us to get to know the land. We wanted something that really fit; fit the land, and fit our sensibilities.  And we finally hit upon a name that we like.  It's simple, easy to speak aloud, and yet it speaks to the work that we're doing, planting seeds of a new life: Acorn Hill Homestead.
Ann from A Farmgirl in the Making says: Our homestead is simply known as A Farm Girl In The Making, and though it may not actually be a proper name, it's who we are.  The story of how A Farm Girl In The Making came to be is a good one, but what's more important is what the name represents.
Liz from The Cape Coop shares: We never intended to start a homestead. We were just going to get "a couple chickens". Then the garden started expanding (originally it was a normal 30 square feet, now it's up around 700 square feet!). Then came the rabbits and the ducks and the canning and the soap making…..and I never would have guessed how much I would love it all. I wanted a name that reflected our homestead's beginnings with chickens and our love of our little coastal hometown on Cape Cod – and The Cape Coop was born!
Connie from Urban Overalls shares: I wanted something that conveyed my farming/rural roots and at the same time… my present day environment of living in a city. I felt that Urban Overalls blended the two quite well.
How to name your homestead: use nicknames.
Kathie from Homespun Seasonal Living says: We call ours Two Frog Home—we're lazy and don't call it homestead. We named it simply because I've always had a love of frogs. My husband is 21 years older and calls himself 'the old frog' and me 'the young frog' – it just stuck, until it became Two Frog Home.
How to name your homestead: it doesn't have to be complicated.
Jess from The 104 Homestead puts it this way: Mine is just my house number. We named our homestead The 104 Homestead when we started selling eggs at the local grocer. We needed labels for the cartons so we did "104" and the 0 was shaped like an egg.
No matter how you go about coming up with a name—it could simply be something that ties with why you decided to become a homesteader—it certainly adds a bit of charm and flair to your homestead. Telling the story of how you came up with a name is something you'll enjoy telling folks in years to come, and I'll bet you anything they will love to hear it.
Have you named your homestead? Feel free to share your story in the comments. And remember to record the story in your farm journal!
---
---