The Best Tips for Incubating and Hatching Pheasant Chicks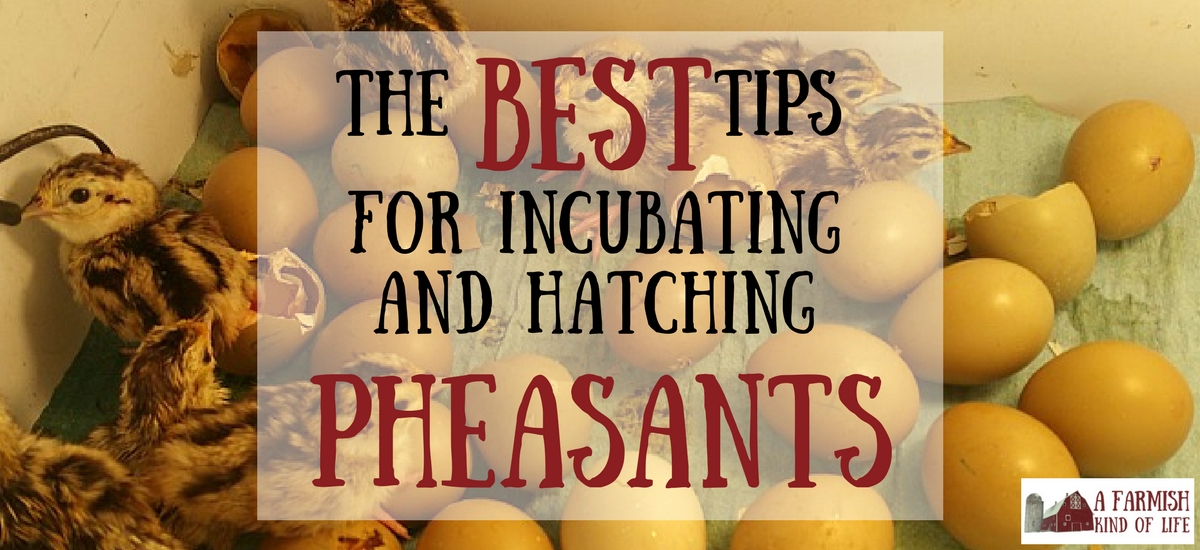 A Farmish Kind of Life is a participant in the Amazon Services LLC Associates Program, an affiliate advertising program designed to provide a means for sites to earn advertising fees by advertising and linking to Amazon.com. You can view our full affiliate disclosure here.
Since we raised pheasants here at Clucky Dickens Farm for a few years, we are often asked about our experience raising pheasants. We get a lot of questions having to do with the actual incubating and hatching of the pheasant chicks themselves. Here are a few of the things I'm asked about our experience incubating and hatching pheasant eggs.
Where do you get your pheasant eggs?
There are many places online you can buy or bid on pheasant eggs for hatching. If you order chicks, please be aware there are some states that require permits/vet checks before shipping.
We went a different route: we raised a batch of pheasant chicks (try Hoover's Hatchery or McMurray Hatchery), kept a rooster and ten hens, and started collecting their fertilized eggs the following year.
*Please note: if you plan to incubate pheasant eggs or over winter pheasants at your farm, it may require a game farm license. Please check with your local Department of Natural Resources.
We prefer to run a closed, "self-sufficient" system here, so we collect and incubate eggs from the breeding stock that we keep year round. Pheasants generally start to lay eggs in late March and continue through the summer. They will usually lay an egg a day – if you keep a lot hens, it can be hard keep up!
Why don't you just let your pheasant hens hatch their own eggs?
We had heard that pheasant hens weren't the best moms. We decided to let a hen stay with a clutch of eggs one year. (Or rather, she hid from us in our outdoor run and appeared with pheasant chicks some time later.) She was not a good mom.
Within 24 hours, the majority of her chicks were dead or close to. She did not sit with them in the cold of the night, and we found them in various places—dead or almost dead—all over the coop. We found the last chick abandoned the following morning next to a puddle in a rainstorm.
Yes, we rescued all the chicks that we could.
I realize she's only one example (and that there must be some hens who are decent moms or the species would completely die out in the wild) but after our experience, we've decided it's just easier to incubate and hatch the eggs ourselves.
Do pheasants need nesting boxes?
Pheasants are ground nesters so you don't need to worry about building them traditional nesting boxes. We do have little huts we've built for our pheasants, but they've been known to lay eggs anywhere, even out in the open on the dirt.
The tricky thing about pheasants is that their eggs aren't white and they are smaller than chicken eggs so sometimes you won't see them right away. I sometimes mistake a pheasant egg laid out in the open of our outdoor run as a rock.
The other tricky part about pheasants is they will cover their eggs. I've found eggs covered with grasses or dirt or dug in underneath the corner of one of their huts.
In our experience, pheasants don't lay in the same spot twice very often (unless someone has decided they're gonna go broody). Pheasants catch on real quick that you're coming for their eggs and they get sneakier and sneakier.
If you do happen to have a hen who decides to sit on eggs and you want to take those eggs, watch out. Chickens can get sorta snippy about this and peck at your hand…but pheasant mamas can downright turn into Mama Bear.
What do I do with the eggs while I'm waiting for enough to put in the incubator?
We store ours in the incubating room of our barn. We place them, pointy side down, in egg cartons. We stick something underneath the egg carton and tip the eggs one way. We tip them the other way a couple times a day.
Some folks are very particular about the temperature in the room you're saving them in or the amount of time you can save the eggs before they will no longer be incubated to hatch. We aren't that particular. We are more of a try it and see what happens sort of family. Some folks have said you can't save eggs longer than a week or two. We've hatched chicks from eggs in nests we've found that we know were older than that. Your method will probably depend on how many roosters, hens, and incubators you have.
And just so you're aware, if you do end up with way more eggs than will fit in your incubator, you can eat pheasant eggs. They taste just like a chicken egg but are much smaller.
Do you label or date your eggs?
In the past I numbered all my eggs, simply to  just to be able to look and say "Egg #14 is hatching and has been trying to hatch for 24 hours."
Some people mark the eggs with an "x" so they can tell if they have been turned or not.
If you want to keep track of dates and how old the eggs are and whether or not they hatch, or you found a clutch of eggs and aren't sure how old they are, it can be beneficial to label them as such for the incubator. But in all honesty, I generally don't look at the shells of what has hatched when I'm cleaning out the incubator, so in recent hatches I've stopped labeling the eggs.
How long do pheasant eggs have to be incubated?
Well, now. That's a great question. With chickens, it's 21 days. With ducks and turkeys, its 28 days. With pheasants…well, we have a saying at our house that pheasant chicks hatch when they want to hatch because, pheasants. We've almost always found hatch day to be right around 24-25 days, but I've seen places online that say its anywhere from 19-30 days.  Pheasants are definitely a different breed of animal. They do what they want.
How do you incubate pheasant eggs, anyway?
The process is basically the same as incubating eggs of any other farm or game bird.
Place the eggs in the incubator. Keep the temp at a pretty constant 99.5 and the humidity at 50-65%.
Turn them a couple times a day.
A few days before hatch day, stop turning them. (We stop turning around day 21.) Try not to open the incubator so the humidity can build up to 65-75% percent or so and stay nice and high for hatch day.
If you have to open the incubator during those last days, don't freak out. Opening the incubator after lockdown is not going to ruin your hatch.
Also, do not freak out if they don't get turned a certain amount of times per day. We took a clutch of eggs from a mama hen and because we didn't know how close it was to hatching, didn't turn the eggs. 12 days later, we had one of the best hatches (80%) yet. Friends, that means those eggs weren't turned for 12 days.
In our experience, we let the incubator run for a couple days longer than what we think is long enough. Pheasants do what they want, and sometimes they take their sweet time deciding to hatch.
Move the pheasants to a brooder (95ish degrees) after the chicks are dried off and fluffy. Don't freak out that they have to get in the brooder right away — a wet chick should never go in the brooder. Remember, chicks don't have to eat those first few days because they suck the yolk into their body right before they hatch and that yolk sustains them in those first days. It's the whole reason that hatcheries can ship chicks to you.
Do you candle pheasant eggs?
We do not. We tried to candle the very first batch of pheasant eggs we incubated and discovered it's a lot harder to be sure about what you're seeing like it is with a chicken egg. Pheasant eggshells are much darker and thicker than chicken eggshells.
We incubate everything we collect. This means our hatch rates are less than they would be if we were candling (because we're obviously incubating some eggs that aren't going to hatch) but we're not confident enough candling the dark shell to be sure we wouldn't be tossing out something that was fertile and growing.
How big are pheasant chicks when they hatch?
Itty bitty. I was lucky enough to catch a pheasant chick hatching on camera. Check out my super short video Want to See A Pheasant Hatch?
My husband joked once that pheasant chicks are about the same size as a piece of saltwater taffy. I said, nah, it's maybe…two pieces.
They are small. And they are fast. Consider yourself warned.
Here is a video of our first day with our very first batch of pheasants (from Hoover's Hatchery.)
Any tips for when they go in the brooder?
Put rocks in their chick waterer. Pheasant chicks are very small and the rocks help them from sticking their beaks in too deep.
We use sheets of newspaper for lining the brooder. Of all the birds we've raised, pheasants are the worst for trying to eat wood shavings, and straw is too slippery for them.
Be ready to put a screen cover of some sort on the brooder right away. We use a couple grates we found around the farm or we've also cut pieces of this poultry netting and secured it with a bungee cord. Trust me — you want a cover. Those babies will be popping out of that incubator WAY earlier than chickens, turkeys, ducks, or geese would even dream of doing.
What other questions do you have about incubating and hatching pheasants? Let me know in the comments!
---
---