Simple Granola: Fast and Slow
A Farmish Kind of Life is a participant in the Amazon Services LLC Associates Program, an affiliate advertising program designed to provide a means for sites to earn advertising fees by advertising and linking to Amazon.com. You can view our full affiliate disclosure here.
I love granola. It's so versatile. You can eat it as cereal or a snack, you can use it as topping for ice cream. I also love granola because it's simple to make. Here are two simple granola recipes that we use at our house.
But, hey! You should know the best thing about granola is that the recipes are easily tweakable. You can add or take out whatever you want to create the perfect mix for your family. Want almonds? Don't want craisins? Want to change the spices? It's all up to you! Granola is perfectly flexible!
Recipe One: Fast Simple Granola
This granola only bakes for 20 minutes. When in a hurry, I have baked it for only ten minutes and it turned out just as well. This granola clumps up a bit more and is chewier than our "slow granola" recipe.
Ingredients for Fast Simple Granola:
5 cups oats
1/2 cup dry milk
1 cup coconut
1 tsp cinnamon
1/2 tsp salt
3/4 cup brown sugar
1/3 cup oil (we use vegetable)
1/3 cup honey
1 cup craisins (dried cranberries)
How To Make Fast Simple Granola:
1.  Combine the dry ingredients (except for craisins) in a large bowl.
2. Mix the brown sugar, oil, and honey in a saucepan. Heat just until the sugar is dissolved. Do not let this sauce boil.
3. Pour the sugar mixture over the dry ingredients. Stir to combine thoroughly.
4. Place mixture in a 9×13 pan and bake for 10-20 minutes in a 375 degree oven. Stir once.
5. Immediately after the granola comes out of the oven, stir in the craisins. Let mixture cool in pan. It will become more "solid" as it cools. Store in an airtight container when completely cool.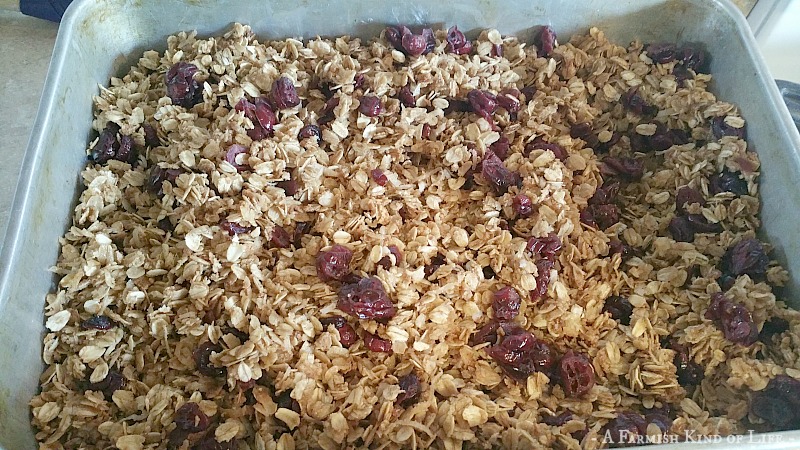 TIP: If you want the granola to be clumpier, resist the urge to continue stirring it a lot while it is cooling. The more you stir it, the less the mixture holds together. Here is the consistency I like for mine:
Recipe Two: Slow Simple Granola
This recipe is slower to make—it is baked at a lower temperature and bakes 60-75 minutes. This recipe also turns out to be more of a cereal type granola or an ice cream topping – a drier, finer type of granola that is not as "clumpy".
Ingredients for Slow Simple Granola
6 cups oats
1 chopped nuts
1/2 cup coconut
1/2 cup flax seeds
2/3 cups oil
1/2 cup honey
1/2 cup brown sugar
2 Tbsp water
2 tsp vanilla
How to Make Slow Simple Granola
1. Combine the oats, nuts, coconut, and seeds.
2. Simmer the oil, honey, brown sugar, and water until mixed. Do not let this mixture boil. Remove from heat and add the vanilla.
3. Pour the sugar mixture over the oat mixture, stir to coat. Pour the mixture into two 9×13 pans.
4. Bake for 60-75 minutes at 275 degrees (note the lower temp!). Stir the mixture every 15 minutes as it bakes. After baking, cool completely and store in an airtight container.
What are your favorite things to put in your simple granola? Share them in the comments.
Spending time in the kitchen today? Here are a few other things you could make…
Old Fashioned Fruit Cocktail Cake
---
---