Strawberry Rhubarb Slush
A Farmish Kind of Life is a participant in the Amazon Services LLC Associates Program, an affiliate advertising program designed to provide a means for sites to earn advertising fees by advertising and linking to Amazon.com. You can view our full affiliate disclosure here.
Rhubarb is a really big deal here in Minnesota because it's one of the first things to pop out of the ground. And while we all like making things like strawberry rhubarb pie, rhubarb crisp, and rhubarb bars, sometimes I get asked what else can be done with rhubarb. You know, like if you don't want to bake? Oh, dearest farmish friends, there is something else that can be done with rhubarb. You can make strawberry rhubarb slush.
Strawberry Rhubarb Slush is a great slushy drink that can be made with alcohol or without and is lovely to have as a treat to cool off after a hard day of work on the homestead. So if you find yourself with some rhubarb…
Disclaimer: Be aware, this recipe has pop in it—soda for you folks that don't live in Minnesota—and also some store-bought items like frozen lemonade and apple juice. If those ingredients aren't your thang, you have two options: you can choose to use your own homemade substitutions or you can move along a different recipe. I suggest my homemade egg nog recipe.
I call myself farmish for a reason. I'm not 100% pure. I hope we can still be friends.
Strawberry Rhubarb Slush
(scroll to the bottom for a printable recipe!)
Ingredients
9 cups chopped rhubarb
2 cups sliced strawberries
3 cups water
1 cup sugar
3 cups apple juice
3 cans (16 oz each) frozen pink lemonade, (thawed a bit so it can easily be combined with other ingredients)
Note: The above amounts will fit pretty nicely in an ice cream bucket. Feel free to reduce the recipe if you don't feel the need for a whole bucket of strawberry rhubarb slush in your freezer. But, you guys—a whole bucket of slush in your freezer!
How to make Strawberry Rhubarb Slush
Place the chopped rhubarb, sliced strawberries, water, and sugar in a large pot and bring to a boil, stirring occasionally.
When the mixture comes to a boil, turn off the heat and let the mixture cool for 30-45 minutes.
Place the mixture in a blender (in several batches if necessary) and puree.
Pour the puree into an empty ice cream bucket. Stir in the apple juice and the pink lemonade.
Now depending on you measuring skills and the size and shape of your bucket, you may actually have too much for one bucket. (Remember, this is going to freeze so you need to leave a little room for expansion.) But if you've got too much for one bucket, you know what? That's okay. Grab a second ice cream bucket and put some of the slush mixture in it and now you have a nice bucket of slush for a friend.
People will love you. In fact, everyone will want to be your friend.
Put the ice cream bucket(s) in the freezer and let everything get nice and frozen. Then you're ready to serve your slush!
To serve Strawberry Rhubarb Slush:
Kiddos and those desiring the non-alcoholic version: you're going to grab a nice big glass and fill it 1/2 full of slush, and 1/2 of your favorite light pop/soda of choice—7up, sprite, sierra mist, ginger ale, lemon sour. Stir it up. Enjoy.
Adults: 1/3 slush, 1/3 light colored pop, and 1/3 (or there abouts) rum, brandy, or vodka. Stir. Sit on the front porch. Enjoy.
And that, friends? That is the other thing we do with rhubarb here at Clucky Dickens Farm. It's great after a hard day of working on the homestead.
Recipe notes:
My original recipe does not have strawberries in it, just rhubarb—which totally works. It was actually my husband who suggested putting strawberries in it. The ratios of strawberries to rhubarb is completely up to you, just so long as you have about 10-12 total cups of fruit for the actual mixture.
Some people add their alcohol right to the slush before it goes in the freezer, which results in a less firm freeze. You know, more slushy. However, my parents never made it this way because then their sweet children couldn't enjoy rhubarb slushies with them. The choice is up to you and whatever darlings you plan to share strawberry rhubarb slushies with.
The ratios of slush to soda to alcohol are completely and totally up to you. Experiment a little. And then make another bucket of slush.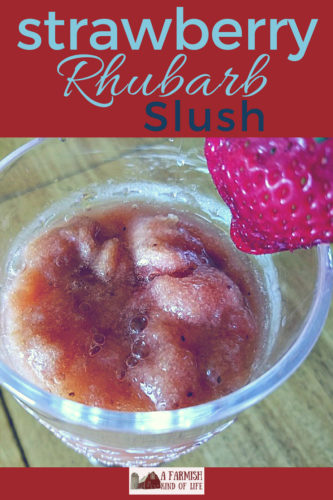 Strawberry Rhubarb Slush
Need an idea for something ELSE to do with rhubarb? How about a yummy strawberry rhubarb slush that can be made with or without alcohol? So refreshing after a day of hard work on the homestead!
Ingredients
9

cups

chopped rhubarb

2

cups

sliced strawberries

3

cups

water

1

cup

sugar

3

cups

apple juice

3

16 oz

cans of frozen pink lemonade

slightly thawed

light colored soda

7up, Sierra Mist, Sprite, etc.

Rum, brandy, or vodka

optional
Instructions
1. Bring the rhubarb, strawberries, water, and sugar to a boil. Set aside to cool for 30-45 minutes.
2. Puree mixture in blender (in a few batches if necessary). Place pureed mixture in empty ice cream bucket.
3. Put apple juice and pink lemonade with puree in bucket. Stir to mix.
4. Freeze until slushy or solid.
5. To serve non-alcoholic: Fill glass half full with slush, fill the rest of the way with light colored soda.
6. To serve with alcohol: Fill glass 1/3 full with slush, 1/3 with light colored pop, and 1/3 cup of rum, brandy, or vodka.
7. Measurements for final portions for serving are approximate, mix to taste.
---
---