When Pigs Get Out: A Farm Drama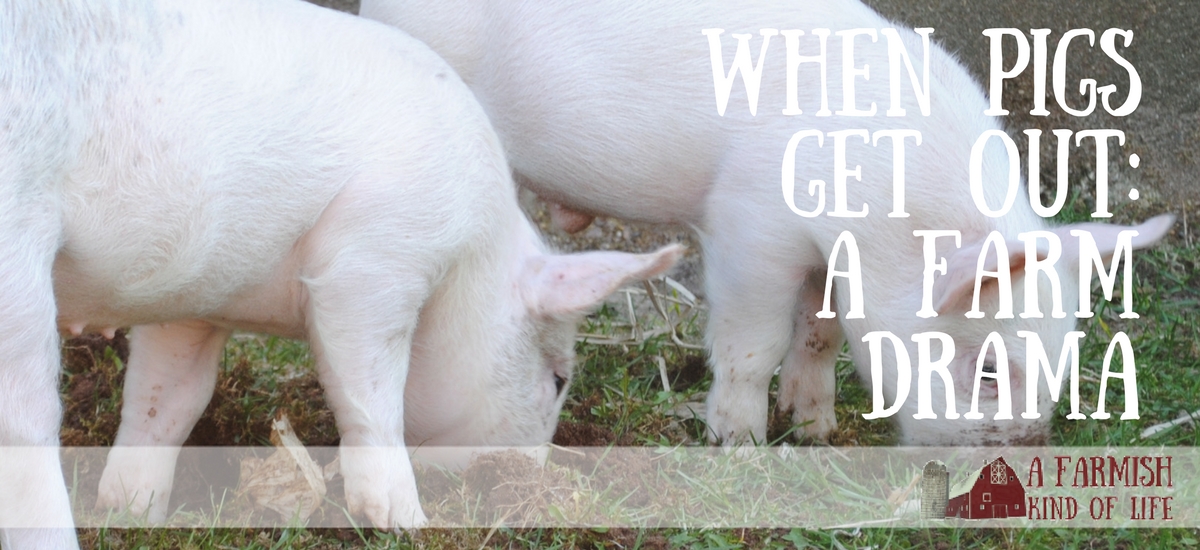 A Farmish Kind of Life is a participant in the Amazon Services LLC Associates Program, an affiliate advertising program designed to provide a means for sites to earn advertising fees by advertising and linking to Amazon.com. You can view our full affiliate disclosure here.
I love pigs, y'all. They're my favorite farm animal. But I've got to tell you about what happens when little pigs get out. It's quite the farm drama.
Oh, sure. Looking back, it seems like a farm comedy. But at the time the pigs get out? Not a comedy. It's definitely a drama—with dramatic music and everything.
That fateful day in May, the plan was that I'd pick up three 40 pound Yorkshire Duroc cross pigs and bring them home at 9:30 am. My night shift working husband would be sleeping. But the farm boys and I could handle it. Totally. Right?
Right.
The pigs had been loaded into an extra large dog crate which the farm boys and I muscled into the stall they were going to now call home. We were excited because although it was the same inside area that our pigs had had in previous years, we had worked hard on plumping up their outdoor pasture. These pigs were gonna have it made.
The gent we picked the pigs up from knew this and said, "Don't let them out on pasture for a few days. Let them get used to the area inside before you let them out into the fenced outside area."
10-4. Got it.
So there the boys and I stood in their inside stall with the three piggies in the dog kennel. We closed the gate stall behind us and opened the kennel door. Two of the three pigs stepped out of the kennel into their new home.
But what happened next was an absolute blur.
Those piggies got scared (where's my mom!? who are you?!) and pushed their 40 pound piggy bodies through a slat in the stall that no pig has ever pushed through on our farm before. But this was not the worst of it.
The worst of it was that we all realized at the same time that we forgot to close the barn door.
You guys. @#$&(@#($)*
Out those pigs went. Out the barn door. Into our yard. The dog followed, chasing. The pigs ran faster. I ran. Language not fit for sailors vomited forth from my mouth, as well as, "Go get Dad!"
Oldest Farmboy had thankfully closed the kennel door locking in the third pig who had not yet ventured into his new surroundings. The dog was also called off the pig chase and put in the house.
I called to the pigs trying to tempt them with food (which they flat out ignored) and I watched them run faster than I was running and you know what I saw? I saw dollar signs. Burning. To a crisp.
I will not cry. I will not cry. IwillnotcryIwillnotcryIwillnot…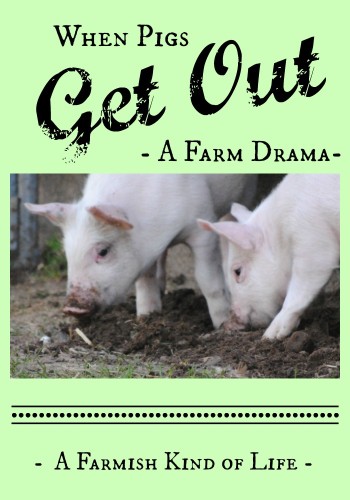 Just then my knight in faded jammie pants who had slept all of two hours appeared behind me and said, "Which way did they go?" I pointed at their bobbing pink bodies on the horizon. My husband grabbed a four wheeler and took off to push them back to the house.
(Oh. Sure. It seems obvious now.)
Talk about team work. Imagine a dad, a mom, and two awesome farmboys doing whatever they could to get these little buggers. There were a lot of times we almost had them. When they ran through the garden fence. When one got tangled up in a tomato cage. When another one was cornered in one of the pasture fences. I have no clue how long we messed around with this, and I'm sure it would have been really amusing if someone would have taken video.
My husband (on the four wheeler) finally ran one of the pigs from the neighbors (thankfully) unworked field until the pig got tired and he grabbed it and put in back in the locked kennel with the sole obedient pig. In that chaos, the second loose pig had ran the opposite direction across the other farmer's (planted) field on his own little adventure. We pushed him back to the house from the road and had him cornered. I dove for him and missed. One of the farmboys caught him in a thick net.
Both pigs safely delivered back to the kennel, my husband added hog panels to the inside of our stall for added security. Then the pigs were let out into their stall. We left them alone for awhile (mostly because we all needed to catch our breath. And change clothes.) but when we went back out to check on them, they were standing in the middle of their bedding like this:
Clearly they were hiding because they felt guilty and were apologizing. Or maybe they were just trying to be extra cute. They just stood there like that ("you can't see me!") for several minutes.
Little buggers.
Later that night I went out to have a talk with them. I explained we didn't get off to a very good start and for that I was sorry. Then I offered them some marshmallows. They said we could probably work on being friends.
In every bit of farm excitement, there is always a lesson. Here are four to be learned when pigs get out:
1. When bringing in new animals, ALWAYS REMEMBER TO CLOSE THE BARN DOOR. Always.
2. We own four wheelers. Several of them. Instead of killing yourself running, use wheels.
3. Profanity is alive and well at Clucky Dickens Farm. You can't catch a pig without it.
3. Knights in faded jammie pants (and their smart, go-get-'em farmboys) are just about the best thing in the entire world.
---
---