Bean Bacon Chowder: Because, Bacon
A Farmish Kind of Life is a participant in the Amazon Services LLC Associates Program, an affiliate advertising program designed to provide a means for sites to earn advertising fees by advertising and linking to Amazon.com. You can view our full affiliate disclosure here.
I'm going to tell you about a soup called Bean Bacon Chowder, but we should really just call it The Soup I've Been Eating For Almost Forever. I grew up with my mom making this for us often, and it's one of my favorites.
It's delicious, you guys. There is bacon. And baked beans. And thick broth. And….yum.
The original recipe, which came from an old copy of the Better Homes and Garden Soups and Stews Cookbook, is a little different than the recipe my mom eventually settled on making. I mean, once you know the "real recipe" you can make adjustments. Which, in our case, usually results in a whole lot of dumping without measuring.
I mean, isn't that how you cook?
The original ingredient list for Bean Bacon Chowder:
6 slices of bacon, cut up
1 cup chopped onion
2 Tbsp Flour
3 cups milk
3 med. potatoes, diced
1 (22 oz) cans baked beans
Ingredients we actually use for Bean Bacon Chowder
First of all, it's still a cup of onion. But we're going to use way more of everything else. I'm guessing back in the day this had something with my mom trying to make the soup go a little bit further.
How to make Bean Bacon Chowder
Cook bacon and onion until browned. We use a whole pound of bacon.
Blend in flour. I used a half cup this time. Use more if needed. Coat the bacony oniony goodness really well. The purpose of the flour is to work as a thickener for the soup. And—ahem—I can tell you from personal experience that should you not add enough flour and have a broth that doesn't thicken, Bean Bacon Chowder is still delicious with a thin broth.
Add milk. I've been known to add a half gallon. Or more. Sometimes almost a gallon. You need enough milk to cook those potatoes you've cut up, so adjust accordingly. Cook and stir until bubbly.
Add diced potatoes. For this particular soup making expedition, I used 8 potatoes because we had 8 potatoes that needed to be used. Use what you have. I mean, can you really screw up making soup?
No. No, I don't think you can.
Simmer 15-30 minutes until potatoes are tender.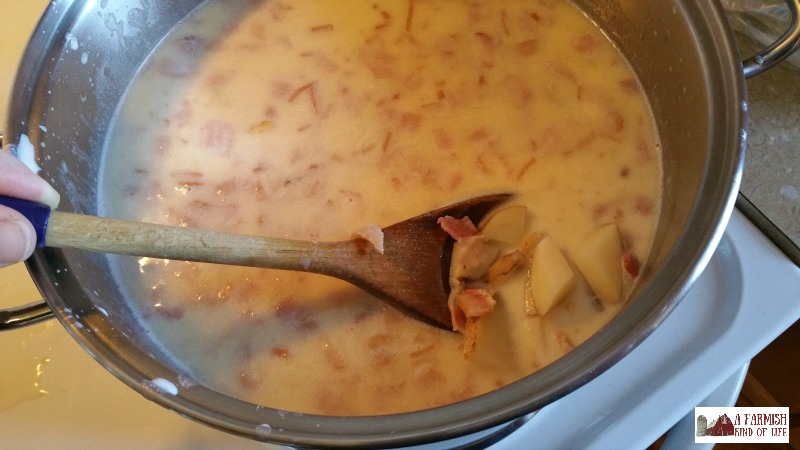 Stir in beans. I've been known to add 3-4 cans of beans. I mean, beans are the first word in Bean Bacon Chowder. So use them liberally.
Heat through, and serve. And eat.
And be happy. Because, soup.
Try serving this yumtastic soup in homemade bread bowls or with a side of One Rise Baguette. The yum factor is high, y'all. So good!
Looking for other favorite soups of mine? Try White Chicken Chili or Cheesy Bacon Wild Rice.
---
---