73: Homemade Chicken Broth — it's easier than you think!
Podcast: Play in new window | Download
Subscribe: RSS
A Farmish Kind of Life is a participant in the Amazon Services LLC Associates Program, an affiliate advertising program designed to provide a means for sites to earn advertising fees by advertising and linking to Amazon.com. You can view our full affiliate disclosure here.
The great thing about raising meat chickens is that we have a lot of chickens in our freezer—which means we often having chicken for dinner! Because of that, we've often got chicken carcasses or frames leftover to use. We're all about using as much of the animal as possible, and the best way to make use of a chicken carcass is to make homemade chicken broth.
(Don't want to read all the words? This blog post is also a podcast—just press the triangle play button on the little black bar at the top of this post!)
The process of making homemade chicken broth is so simple. We do this whether we are piecing out a whole chicken for chicken on the grill or a fried chicken dinner. We also do this if we have roasted a whole chicken for dinner. If you have chicken (or any bird, really) you should absolutely be making your own homemade broth.
The great thing about homemade chicken broth…
Know how your grandma doesn't measure when she cooks? The great thing about making homemade chicken broth is that I don't really need to measure. I make the broth with what I have. If I have two chicken carcasses, that's what I use. If I only have one, I use that. If I've roasted a chicken and deboned it, I toss the carcass and all the bones in.
The thing with chicken broth is that most of us are making it to use in other recipes. You can always doctor it up later if needed. For me, the whole purpose for making chicken broth is to get one last thing out of the chicken carcasses instead of just tossing them in the garbage.
Ingredients for homemade chicken broth
What you will need for homemade chicken broth isn't complicated: chicken carcasses, some veggies, some spices, and enough water to cover everything.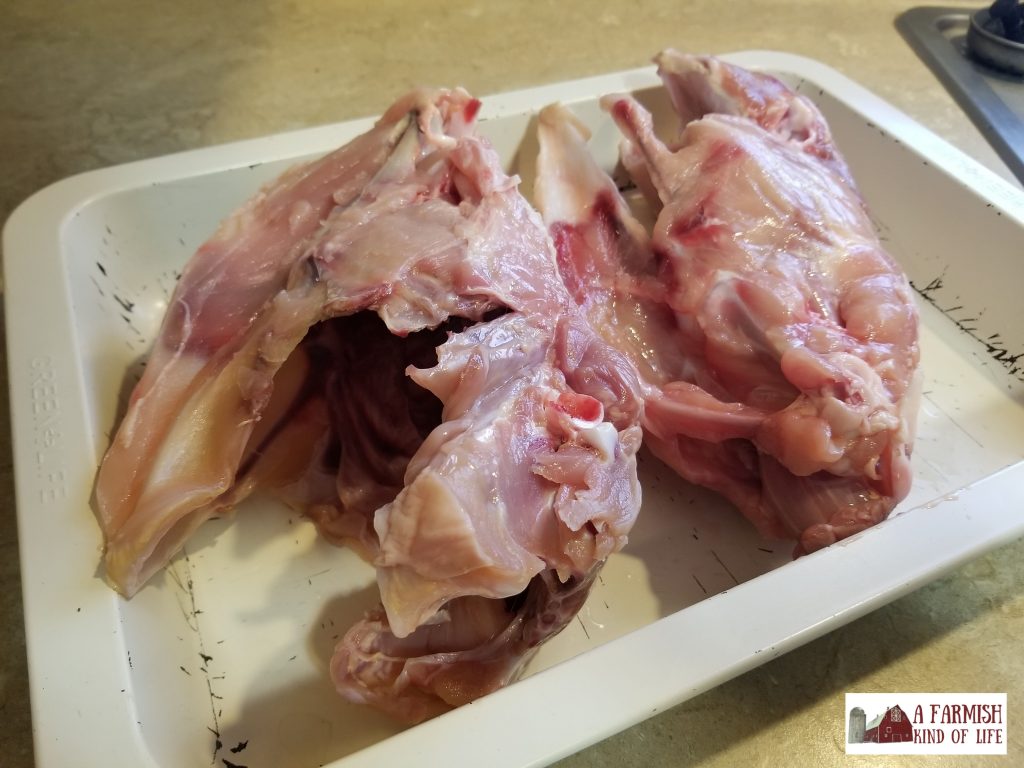 How to make homemade chicken broth?
You take all that goodness, put it in the pot, and bring to a boil. Let it simmer for several hours. Take the large chicken/bone/veggies pieces out. Strain what's left of the broth. Cool. Done.
Seriously, that's all it is. Super not complicated.
There's a more detailed printable recipe at the bottom of this post for those of you who like measurements. But understand the measurements are totally just a guideline. Use what you have, leave out what you don't.
Tips for making your homemade chicken broth
While you can cut up carrots, celery, and onions to make this broth, here's another option. We have a container in the fridge where we toss the ends of and peelings from vegetables we've used in other recipes. If you're making homemade chicken broth, you can totally add these veggie scraps to your broth.
While I do add spices to my homemade chicken broth, I don't add salt to my chicken broth. Instead, I add salt when making the meal I use the chicken broth in.
What to do with your homemade chicken broth?
You can just eat it straight. It's really super tasty and rich. 🙂
You could make some homemade noodles and whip up a batch of chicken noodle soup.
Chicken broth is also great to have to add to chicken/pork/etc in a slow cooker/Instant Pot recipe instead of water.
We generally freeze our homemade chicken broth in quart or gallon sized bags. After the broth has cooled, I measure it and pour it into a bag, ensuring enough space is left for the liquid to expand as it freezes. I lay the bag flat on a cookie sheet in the freezer and let it freeze. Freezing them flat means they will take up less space in the freezer.
If you have a pressure canner, you have the option of canning your broth.
Homemade Chicken Broth
A super simple way to make use of the entire chicken -- make chicken broth! So easy, you will wonder why you ever thought to buy broth at the store.
Ingredients
2

chicken carcasses

3 to 4

carrots, cut in large chunks

3 to 4

celery stalks, cut in large chunks

1 to 2

onions, quartered

1

tsp

rosemary

1

tsp

thyme

1

tsp

garlic

10

black peppercorns

enough water to cover all ingredients in the pot
Instructions
Place all ingredients in large pot.

Bring to boil on stove, then turn down to let simmer for 3-4 hours.

Take out chicken carcass and veggie chunks. Set aside, discard (if no other use for the veggies).

Strain broth through cheesecloth or a clean flour sack towel.
Recipe Notes
** As stated in the blog post, all of these ingredients are an approximation. The beauty of soup is that you can use what you have and leave out what you don't. Don't be afraid to experiment with spices and different veggies, too!
Subscribe to my Farmish Kind of Life podcast at iTunes, Stitcher, Google Play, PlayerFM, or other popular podcast players. All episodes of the podcast will also be linked under the podcast tab that you can find way at the top of this post in my menu bar.
---
---