Red Rangers: 7 Reasons We Won't Raise Them Again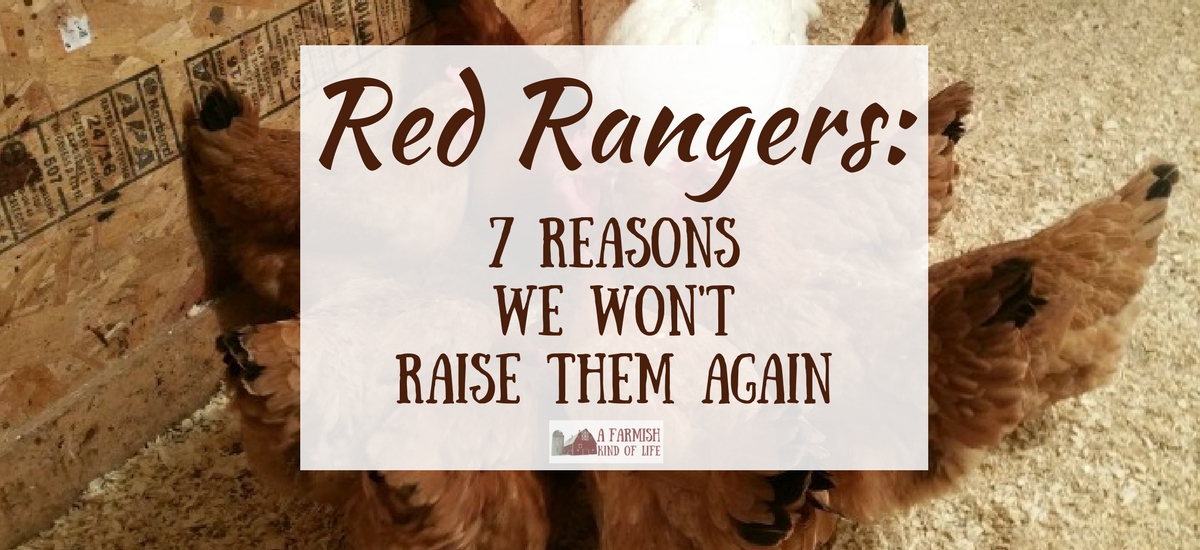 A Farmish Kind of Life is a participant in the Amazon Services LLC Associates Program, an affiliate advertising program designed to provide a means for sites to earn advertising fees by advertising and linking to Amazon.com. You can view our full affiliate disclosure here.
Over the summer, our family decided to do a little experiment with two different kinds of meat birds: the Cornish Cross (which we generally raise) and Red Rangers. Spoiler alert—our family decided we were not huge fans of the Red Ranger bird and are choosing not to raise them again.
But Amy, why is that?
Well…pull up a hay bale and I'll tell you.
Our experience with Red Rangers…
Before I start, I will point out that this is based on our experience. And I know from discussing Cornish Cross and Red Rangers on social media during our summer of raising them that there are people who are pretty hardcore—dare I say religiously—set against either Cornish Cross or Red Rangers.
Y'all, that's not us. Our original reason for doing the Cornish Cross vs. Red Ranger experiment wasn't to prove one was better than the other. You can read about our original reason, as well as a more detailed tally of meat and costs in my blog post Cornish Cross vs. Red Rangers: The Meat Bird Experiment. 
If you experienced something different than we did in raising Cornish Cross, Red Rangers, or both, that's fabulous! I know everyone would love to hear your experiences, and I invite you to respectfully share them in the comments of this blog post.
But again, this blog post is based on our opinion brought on by our experiences on our homestead during our experiment. If you're considering meat birds for your homestead and you'd like even more of our opinions/experiences, check out my ebook Choosing the Best Meat Chicken for Your Homestead.
(Have I said it enough? Because I know how the internet works, and I know someone is going to make me repeat it in the comments.)
One more time—thisisbasedonourexperiences—the end and Amen.
Okay! Let's get to it!
Reasons We Will Not Raise Red Rangers Again
Harder to butcher
We generally don't butcher less than 50 birds at a time (a couple times a year). Our life and schedules do not allow us to be of the grab-a-couple-chickens-here-and-there-and-butcher variety. Butchering is an event for us, and we have a whole chicken butchering set up that we make use of.
In our experience, we found Red Rangers to be harder to butcher. They have more feathers and pinfeathers which—even with an automatic chicken plucker—slows down the process for us. We also found them harder to clean out internally (compared to the Cornish Cross birds).
Longer to grow out
We butchered our Red Rangers at 20 weeks (due to them being significantly smaller than we expected on our originally planned butcher date). Will everyone wait that long to butcher? No. Would we have had 4.5 pound birds at 12-14 weeks? I don't know. Having said that, waiting that long to butcher did not give us a bird whose total amount of meat was worth the additional time and money we put into it.
Roosters are jerkfaces
I hesitate to point this out, because I hate to make a swooping, all-inclusive statement about one group of anything. But the roosters in our batch of Red Rangers were definitely more aggressive than other roosters we have on our farm.
I'm not new to raising chickens; we've had many different breeds of chickens over the many years that we've raised them. So I get that some roosters have attitude problems and some roosters are sweet as can be—even within the same breed. So take my Red Ranger roosters are jerkfaces comment with a grain of salt if you'd like. However, if the roosters in this batch of Red Rangers were an accurate representation of the breed, I'd have to go on record as saying I wasn't impressed with their behavior—and neither were the hens.
If you butcher after egg production starts…
Waiting 20 weeks to butcher meant the Red Ranger hens were in egg production already—they started laying at about 16 weeks. Butchering a whole mess of meat bird hens who have eggs inside is…well, messy. Not that this can't be done because clearly, if you're raising for dual purpose, you're going to encounter eggs in the butchering process. But it's certainly something different to deal with if you're used to butchering Cornish Cross before egg production is in full swing.
As a side note: seeing the eggs in various stages of development is always interesting. In the future, if you'll be butchering a hen that you know is in egg production and you've not seen the egg tract before, take a couple minutes to check it out. It's pretty neat.
Different body type
You're not going to get the deep breast of a Cornish Cross in a Red Ranger. They are two different kinds of birds. And while Red Rangers are meatier than your average "dual purpose bird", they're not going to have the meat of a Cornish Cross. Red Rangers are also significantly fattier than a Cornish Cross. Some people like this. We were sorta meh about it.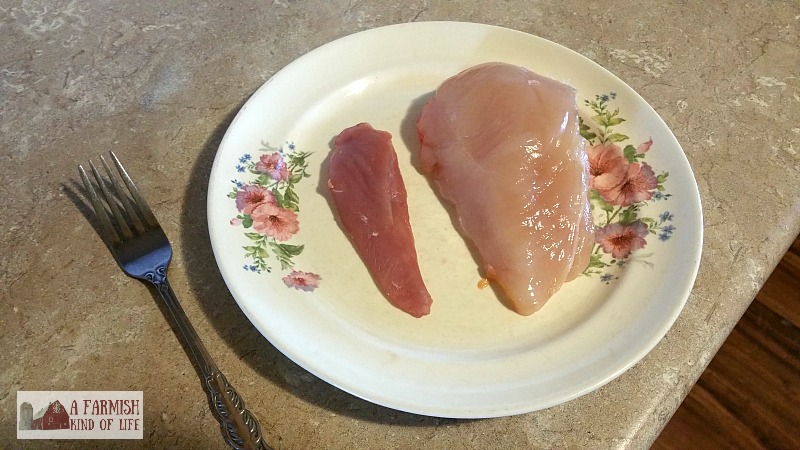 Actually, to be honest, during butchering we did a lot of what the what? when we'd find large pockets of fat. I don't remember ever finding an egg bird with that much fat on them.
But then, not to worry. The fat is where the flavor is, right?
Flavor
The flavor of the Red Ranger was decent, but (in our opinion) not so stop-the-presses that it was worth waiting additional time and spending more money to feed them.
We prepared two Red Rangers on the grill—our preferred method of chicken preparation. The first Red Ranger was pretty chewy. The second Red Ranger was rather tasty. In a survey of family members around the table, the flavor of the Cornish Cross won out over either of the Red Rangers.
Side note: When talking to people about the flavor of a Red Ranger, you will find there are as many opinions on the taste and texture of a Red Ranger as there are people commenting. Isn't it great that we can all choose what chicken we like best?
Now, if you're all about that chicken skin…
Tough skin:
If you're a chicken skin person like me (always stealing the crispy chicken skin) this might be a deal breaker for you: Red Ranger chicken skin is tough. Really tough.
Gah. I really want someone to go to the comments and tell me this wasn't their experience, because, dude—chicken skin should never be tough. Never.
Potentially good things about Red Rangers
Because I'm a fair person, I like to show both sides of our experiment. Here are the good things we found with the Red Rangers.
Dual purpose
Red Rangers certainly lay eggs (although the number of eggs per year depends on who you ask), and they are definitely a meatier choice as far as dual purpose breeds go. So if you're looking for a dual purpose bird, Red Rangers could be your ticket. Some people have said that Red Rangers can be duds at laying. Clearly, that was not our experience, but perhaps it depends on the batch.
Fatty bird
I'm going to assume that the fact the Red Ranger is so fatty means a Red Ranger makes a really tasty chicken stock. However, I haven't tried it yet, nor have I done a side-by-side Cornish Cross broth and Red Ranger broth comparison. Next time we cook up one of the Red Rangers, I'll be sure to make some stock from the carcass. Chicken noodle soup, here I come. (And I'll let you know how it tastes.)
Uniformity in size
When we butchered, the vast majority of our Red Rangers came in at 4 to 4.5 pounds (with one giant hulk at 7 lbs). Although our Cornish Cross ultimately gave us more meat, there was less uniformity in the size of the individual birds throughout the flock. Which means when raising a Red Ranger, there is less guessing about how much meat you'll end up with on butchering day.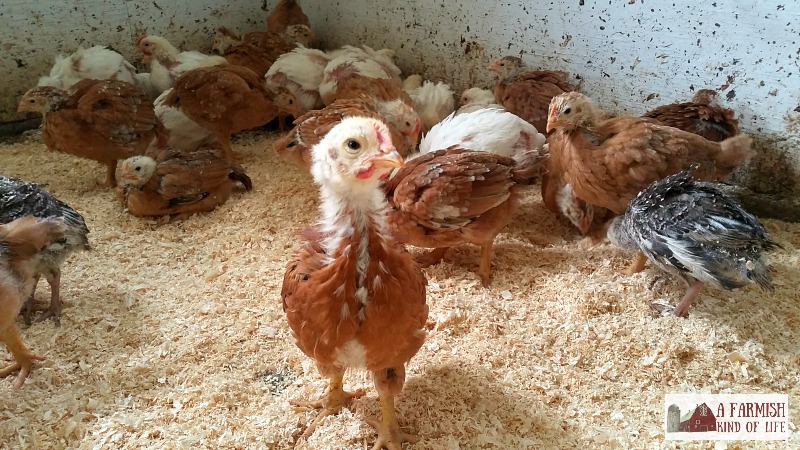 In conclusion…
I'm glad that we did the Red Rangers and Cornish Cross experiment. It's nice to have our own experience to make choices that work best for our particular set up and needs. Have you ever raised Red Rangers, Cornish Cross…or both? What are your thoughts? Feel free to leave them in the comments.
And for more details on our Cornish vs Rangers experience, check out my blog post: Cornish Cross vs. Red Rangers: The Meat Bird Experiment.
---
---