Green Tomatoes: How to Ripen…or Eat!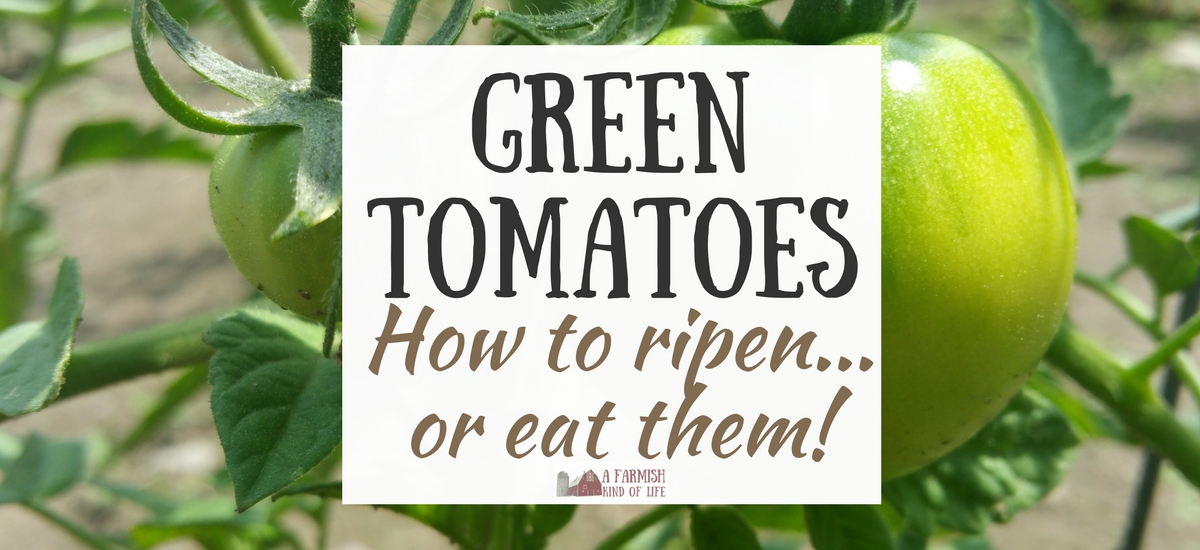 A Farmish Kind of Life is a participant in the Amazon Services LLC Associates Program, an affiliate advertising program designed to provide a means for sites to earn advertising fees by advertising and linking to Amazon.com. You can view our full affiliate disclosure here.
When it's time to clean out your garden for the year, you might be left with a lot of green tomatoes. What in the world do you do with green tomatoes? Well, you have a couple different options…
Green Tomatoes: Ripen Them!
If you're one of those folks who wants their tomatoes deliciously red, but you're running out of time to get them there—or you've just got some stubborn tomatoes, I've got a trick for you.
About fifteen years ago, my great uncle let me in on the secret of how to deal with tomatoes that just won't ripen. Here is is:
1. Pop all those green tomatoes in a paper bag.
2. Close up the bag with a clip and let it sit. Check it every few days. Eventually this will start to happen.
This is our tomatoes a week after putting them in the paper bag.
As it turns out, putting tomatoes in a paper bag helps to concentrate the levels of ethylene gas—which is what helps induce ripening. I'm not sure what other magical properties a paper bag holds, but I'm so happy my old time farmin' great uncle let me in on the tomato ripening secret.
We've also found that putting tomatoes in cardboard boxes (and closing the top) works just as well. Just be sure you don't stack too many tomatoes on top of each other in the box. Before you know it, you'll have a box of overripe tomatoes, as well as a big mess!
Green Tomatoes: Eat Them!
As a Minnesota girl, I'd always assumed that eating green tomatoes was a southern thing. I grew up in a family that did not touch tomatoes until they were red.
When I brought this up to all my peeps, they informed me that no, eating green tomatoes is not necessarily a southern thing, and that what I really needed to do was try some fabulous green tomato recipes to get over my ignorance. Then they told me about things like:
Chow Chow Recipe from Attainable Sustainable
Green Tomato Relish from Spiraea Herbs
Fried Green Tomatoes from Southern Living
Fermented Green Tomatoes from Grow Forage Cook Ferment
So. I was brave and tried fried green tomatoes and y'all….the magic! You can go from this…
to this fried green tomato yummy-ness!
Why did you keep this secret from me? I'm not even going to admit to how many platefuls of these made the journey to my very happy belly, but it's safe to say that I'll be making them again. And again. And I don't care if it's a southern thang or not.
So regardless of how you choose to enjoy green tomatoes—by eating them, or ripening them—I wish you the most delicious of harvests!
Grocery shopping in your garden today? Might I suggest a few other recipes?
Strawberry Celery Salad with Honey Dressing
---
---