The Simple Life: Don't Be Its Slave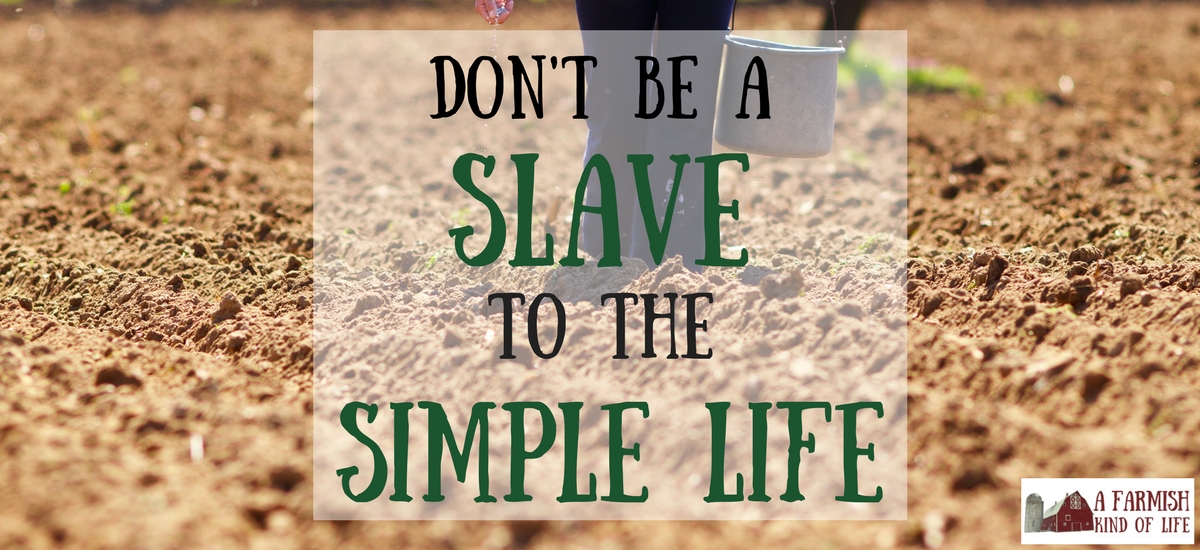 Podcast: Play in new window | Download
Subscribe: RSS
A Farmish Kind of Life is a participant in the Amazon Services LLC Associates Program, an affiliate advertising program designed to provide a means for sites to earn advertising fees by advertising and linking to Amazon.com. You can view our full affiliate disclosure here.
I love the simple life. I bet you do, too. But here's the thing—no matter what you or I do, our "simple lives" aren't ever going to be the simple lives of 100ish years ago. Want to take a guess at why?
(Don't want to read all the words? This blog post is also a podcast—just press the triangle play button on the little black bar at the top of this post!)
Okay, I'll tell you. It's because I have two bathrooms in my house.
Dude. Two bathrooms.
Have you ever stopped to think about how crazy it is that you can have two bathrooms in a house? In the grand scheme of things, it hasn't been that long since people were treking out to the outhouse.
Want to know a few other crazy things that are different from 100ish years ago?
My two kids have their own rooms with their own beds.
I have a heated vehicle that I can drive ten miles to town when my sons have confirmation class.
I can dry clothes in a dryer if I don't have time to line dry them.
Just think about all that for a second.
Think about all those things we have, but completely take for granted. Things like power tools, cars, chest freezers, coffee pots that run all day, and ovens that heat to exactly 350 degrees.
I mean, forget about things like the Minute Clinic and drive-thru coffee shops—we're a luxurious world ahead of our Genuine Simple Living Relatives of Ages Past just by having internet to read this post.
What we call the simple life now? It's way different than Laura Ingalls had.
Each of the little things that are part of our normal—the things so ingrained and common to us that we don't even think about them—changes us. Let's be honest: we're living in a world that is so far removed from what was behind the simple ways of days past.
Our simple life is different because we want to do it. We don't have to do it.
And that, my friends, is a huge difference.
The simple life of today is different because we *want* to do it. We don't have to do it.
Click To Tweet
Our simple life is safe. We pick and choose our simple.
It's fun to see what we can do and how long we could do it for. But if we get too busy to bake bread or get too attached to that chicken we were supposed to butcher, we can just head to the local grocery store for some store-bought whatever and not tell anyone about it.
I know. You might be thinking Okay, Amy. Why are you even bringing this up?
Friends, the simple life is not all or nothing.
I bring it up because somewhere there is someone feeling the itch to move towards a more simple life, but she doesn't feel like it's worth it. She knows can't do everything she thinks she has to do to fit into the almighty category of Simple Lifer or Homesteader or Crunchy or Minimalist or whatever the kids are calling it these days.
So she's just not even going to try.
It's because there are keyboard warriors out there that are quick to judge and tell anyone who will bite what the precise definition is of someone living the simple life. And how it's not you because basically, you're not them.
It's because I want us to be real about homesteading.
I want us to be real about the fact that this isn't 100 and some years ago and some things are just different.
And it's okay.
Stop. Right. Now.
Stop feeling guilty that you can't do everything. Stop it.
Seriously, no guilt. It's not a contest. Do what you can…and be okay with whatever that is.
You might have time to grow tomatoes on your front step…but not have time to bake 15 loaves of bread a week. It's okay.
You might have the space to raise 4 chickens…not 40. It's okay.
You might have kids who can make a mean homemade chicken noodle soup…but also are experts at video games. It's okay.
You might study the simple life and homesteading…by watching YouTube videos. It's okay.
You might cut your own wood and know how to sew your own clothes. And you also might still enjoy, from time to time, a really good cup of coffee at a local coffeehouse. It's okay.
There is a balance to find between modern and old-fashioned, simple and…not.
This does not have to be all or nothing.
In your quest to break the chains of slavery to technology and "modern life", please make sure you're not becoming a slave to simple instead.
Subscribe to my Farmish Kind of Life podcast at iTunes, Stitcher, Google Play, PlayerFM, or other popular podcast players. All episodes of the podcast will also be linked under the podcast tab that you can find way at the top of this post in my menu bar.
---
---