Homemade Bacon: Pig to Plate in 5 Steps
A Farmish Kind of Life is a participant in the Amazon Services LLC Associates Program, an affiliate advertising program designed to provide a means for sites to earn advertising fees by advertising and linking to Amazon.com. You can view our full affiliate disclosure here.
If you're like me, you know that bacon is the stuff that dreams are made of. I really believe that through the power of bacon, we can make the world a better place. With that in mind, I'm gonna show you how to make homemade bacon in five lil' steps.
BACON. (Mmmm. Bacon.)
Now—to be clear—this is how we go about makin' homemade bacon at Clucky Dickens Farm. If you do a google search of how to make bacon, you will come up with lots of different recipes. Our process requires uses a wet cure/brine and we utilize a smoker.
Everyone has their own thing and their own preferences. The great thing about making your own bacon is the more experience you have with making it, the more tricks you will figure out.
Step #1 to homemade bacon: find a pig belly
Bacon comes from the belly of the hog. It's the underside of the pig. Some pigs are better for makin' bacon than others. A really long-bodied pig is going to provide you with a much longer slab of belly meat than a shorter-bodied pig.
If you don't raise your own hogs, you'll need to find some pork belly from someone local or a butcher. The availability of this will totally depend on where you live. We raise our own pigs because a) pigs are awesome, b) we're lucky enough to have a place to do so, and c) well, bacon.
Little tip: We've made homemade bacon for several years now and what we've discovered is it is best to make the bacon before the pork belly cuts go into the freezer. In years past, we have frozen all the cuts from the pork belly to make bacon at a later date.
No, no, no, grasshopper.
This year we took the pork belly and immediately started this process at the very end of the butchering/processing excitement. You can really tell the difference in the taste of the bacon.
(Although if you do already have the pork belly frozen and want to make homemade bacon, don't let this stop you. It's still going to be awesome.)
Step #2 to homemade bacon: brine/cure
Some people refer to this part as brining, others refer to it as curing. Whatever it is, it's the longest part of the bacon process—unless you count raising the pig. We've experimented with several different brines/cures but here is what we've settled on using thus far:
Bacon Brine:
To one gallon of warm water, add…
1 cup brown sugar
1 cup white sugar
1 cup salt
1 tsp pink curing salt
Mix until dissolved.
Place your nicely trimmed pork belly chunks into a five gallon pail. Pour the brine over the meat, and keep adding more brine made with the above portions until the meat is completely covered with liquid. (It usually takes us 2 gallons of brine to cover the meat in a five gallon bucket, but your experience may be different.)
Fill a plastic bag with water and set it on top of all of this. The water filled bag will prevent the meat from shifting or floating to the top of the bucket. It is very important that the meat stays completely submerged in this brine for 10-14 days—not just for flavor of your homemade bacon, but for the safety of your gut.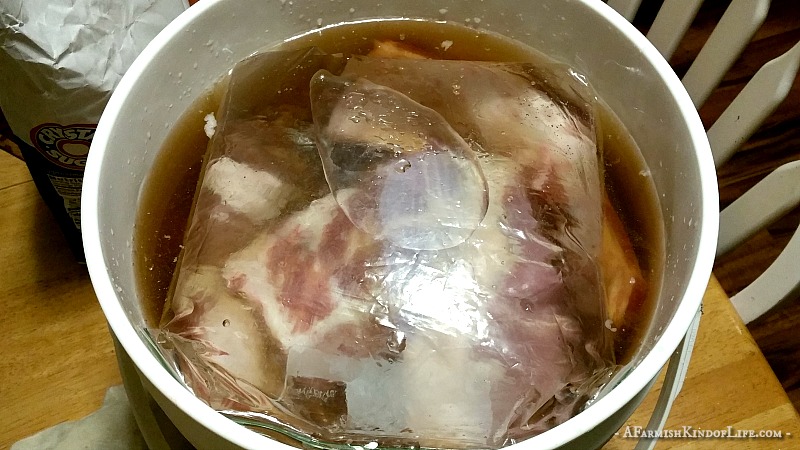 Cover the bucket and set in the fridge for 10-14 days. This works especially great if you have an extra fridge (like—ahem—a beer fridge). You do not need to stir what's in the bucket. Just let it sit undisturbed.
Be patient and dream of homemade bacon.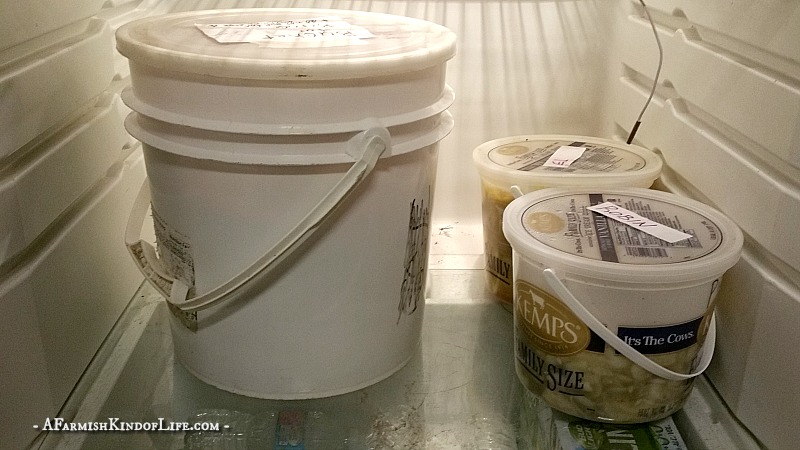 Note: Look ahead in your calendar and figure out what day you're going to tackle the next three steps. It's going to take some work and attention so you want to make sure you've got a day you can make it happen.
Step #3 to homemade bacon: smoke
10-14 days later, you're ready for the awesome and the magic! Take all the chunks of meat out of the bucket and rinse each one in cold water.
Then let them dry a bit. Towel them off if you're a bit impatient about your homemade bacon dream.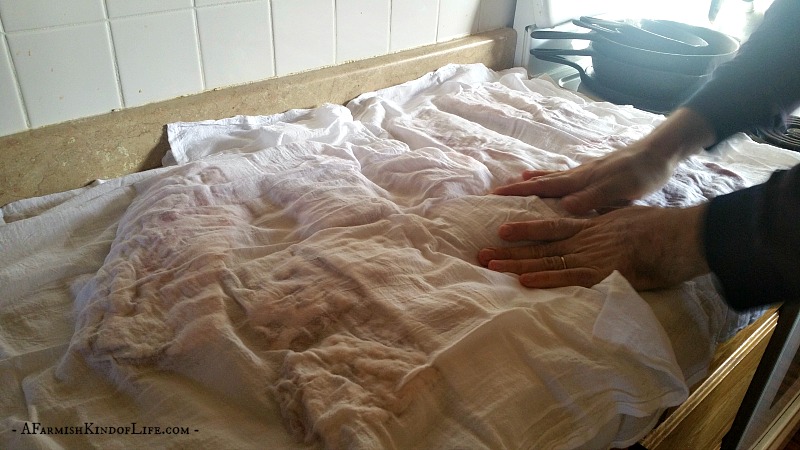 Now it's into the smoker! We have a Masterbuilt Electric Smoker which we use often and are very pleased with. It's easy to use and reliable.
Whatever smoker set up you have…it's time to fill that baby up with meat, close the door, and let the smoker do its thing.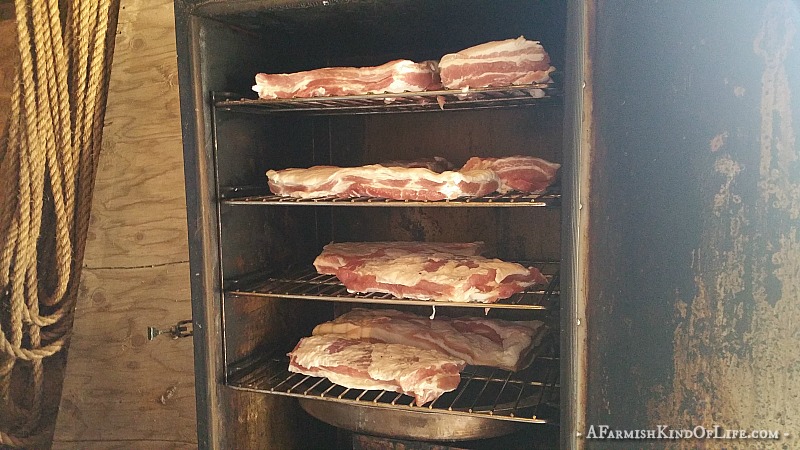 The length of time this takes is going to depend on your individual smoker, how much meat you've put in there, how thick the cuts are, the weather, etc.
It's a good idea to employ the use of a couple different meat thermometers. While the meat is cooking, we like to use a Taylor Digital Cooking Thermometer. We always check it with a second meat thermometer to ensure everything is done.
Your homemade bacon is done smoking when the internal temperature reaches 160 degrees.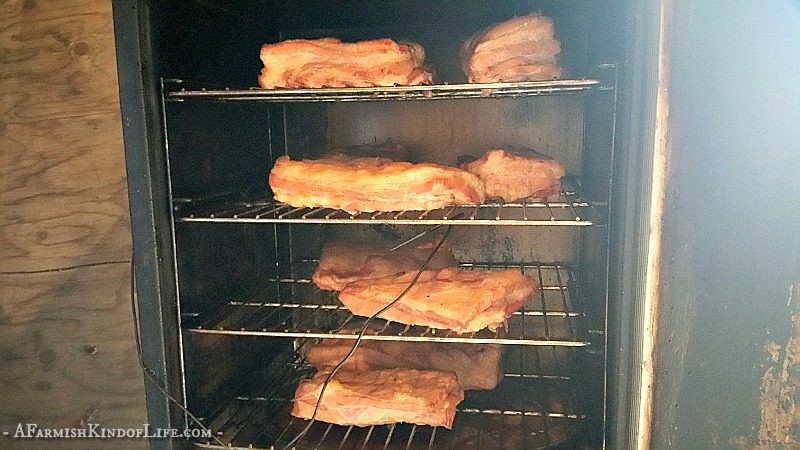 For this particular Clucky Dickens Farm homemade bacon experience, we smoked the meat at 180 degrees and it took about three hours to get done.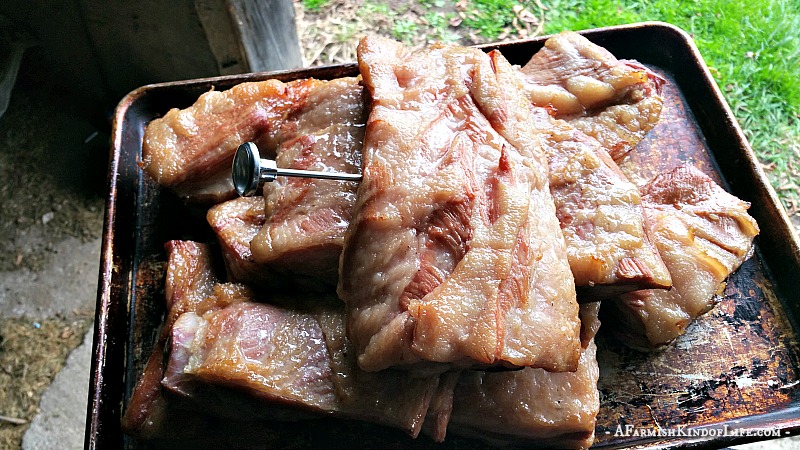 Take the bacon back in the house (carefully! Remember it's been in a hot smoker for three hours!) and let it cool. Letting it cool a bit before you mess with it further helps the flavors inside to get cozy with each other.
You're also going to want the meat at a temperature your hands can handle for the next step, which is…
Step #4 to homemade bacon: slice and package
Do you like thin sliced bacon? Thick sliced?
(Do you just like bacon and want it fried up right now so you can get it in your belly?)
You can slice up your homemade bacon with a knife (we use the knives in this processing kit often) but what really makes the job super slick (and what we use to get the job done quickly and uniformly) is an electric meat slicer. This Nesco Professional meat slicer is a huge time saver for us.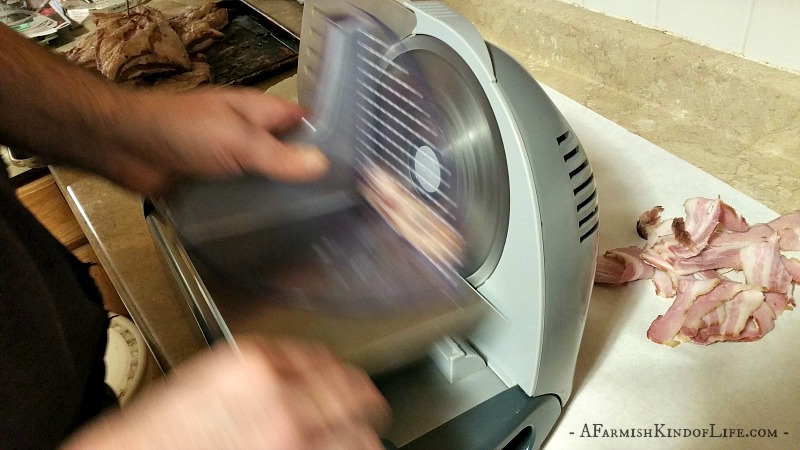 Set the thickness, push the meat to the blade using the guard, run the meat back and forth across the blade, and there you go.
Slices of heavenly homemade bacon.
Assuming you're not going to eat everything you've just made in one sitting, weigh and wrap as usual. We do one-pound packages. Freezer paper is what we usually use—we buy big rolls like these because it's way more cost effective.
Step #5 to homemade bacon: fry and eat
You might have some homemade bacon that wasn't wrapped up to freeze.
Of course you do.
This is what you've been waiting for. This is the payoff. Get out your cast iron skillet and fry that stuff up.
Don't argue about who likes crispy bacon…
and who likes floppy bacon…
…because for goodness sakes, y'all, you just made homemade bacon!! Rock on with your bacony selves!!
Do you raise your own pigs? Here are a few of my posts that you might find helpful…
Cuts of Meat: Butchering and Processing a Pig at Home
How to Render Lard in a Crock Pot
---
---