How to Butcher a Pig at Home
A Farmish Kind of Life is a participant in the Amazon Services LLC Associates Program, an affiliate advertising program designed to provide a means for sites to earn advertising fees by advertising and linking to Amazon.com. You can view our full affiliate disclosure here.
At Clucky Dickens Farm, we take care of all our own butchering and processing. People are always interested to hear how we go about the whole process of butchering our pigs at home.
First disclaimer: This blog post is full of pictures that include blood, body parts, and other such messes. You have been warned.
Second disclaimer: While the pictures in this post are from the first time we processed pigs, I do edit the information in the post every time we process and learn more.
There's a lot to tackle when you learn how to butcher a pig yourself. But don't get overwhelmed. You can do this!
How to Butcher a Pig: Killing
The first thing you've got to do when butchering a pig is kill them. We use a .22 rifle. There is a specific place to aim for (between the eyes, but slightly above). One well-placed shot and they are down. (Edit – we have since learned after a few more years of raising pigs that certain breeds-or certain individual pigs-are harder to take down. In this case, we use a 20 gauge slug.)
How to Butcher a Pig: Hanging, Washing, Weighing
Next, it's time to hang them. A skid loader comes in mighty handy at this point.
Slit the pig's throat as soon as you have them hung. Stand back and make sure you have something to catch all that blood. (We use a portable butcher kit and it has all the knives you need for this job. We also keep the knives super sharp with an electric knife sharpener. A sharp knife is easier—and safer—to use.)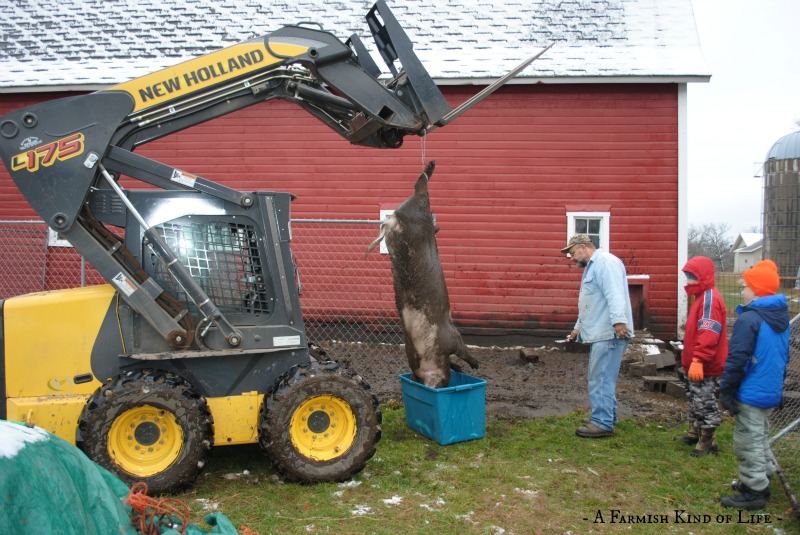 Next, it's time for the pigs to have a bath. Have a hose and a scrub brush ready. And rain gear. (Since this picture was taken, my husband has discovered that his lined PVC gloves are really nice for this task – since it's pretty chilly when we butcher, these gloves help to keep his hands warm and protected from the water.
Bonus: whatever gets on the gloves will come back off again. Perfect for butchering day. If you don't need something that thick or warm, we've found disposable black nitrile gloves also work just great.)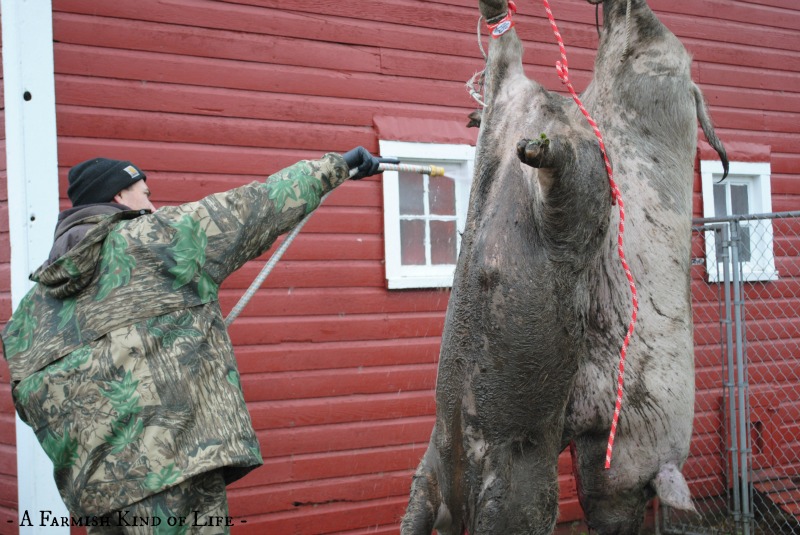 After that, use a heavy duty hanging game scale to get a weight on those babies.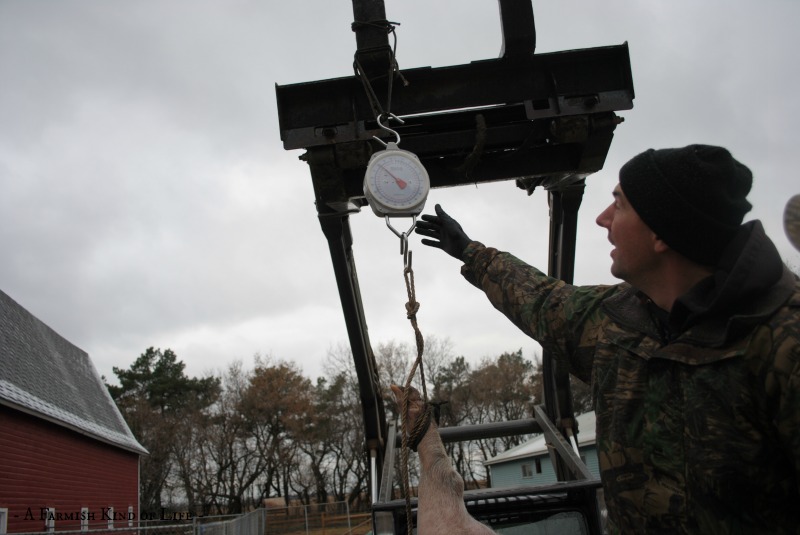 Results: One pig (Supper) weighed 375 and the other pig (Hammy) weighed 400. We could have butchered them at a smaller weight, but rumor has it you want the daytime highs to be in the 40s when you're butchering – we had to wait for Mother Nature to cooperate.
(Edit: These pigs were the biggest we ever raised. It was our first year so we definitely overfed them but they were also a commercial breed so they were made to get big, fast. The pigs we raise now are different. New post about that in the works.)
You can see in the above picture that a rope is wrapped around the pig's leg and that is how they are hung.  We have since learned that S shaped meat hooks, pierced through the hind hocks, are infinitely better.
How to Butcher a Pig: Skinning
After the pigs are scrubbed and weighed, it's time to skin them. We put them on a trailer with a board on either side to act like a cradle.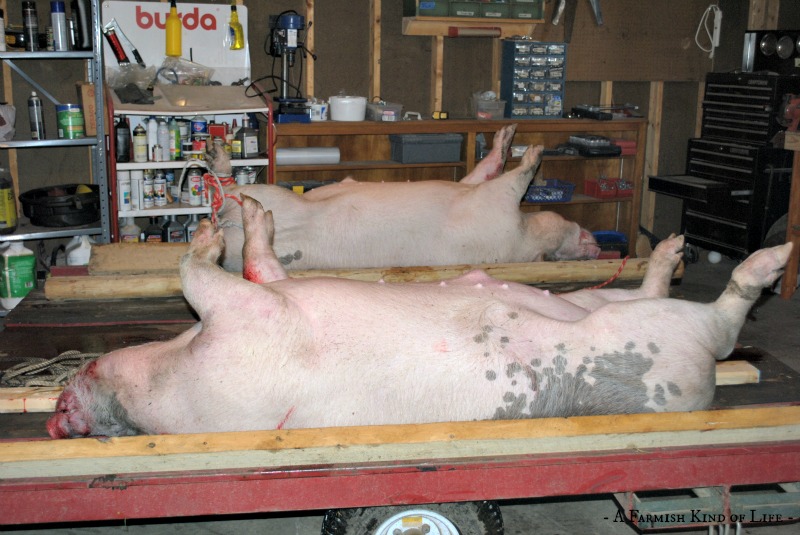 Kinda like this.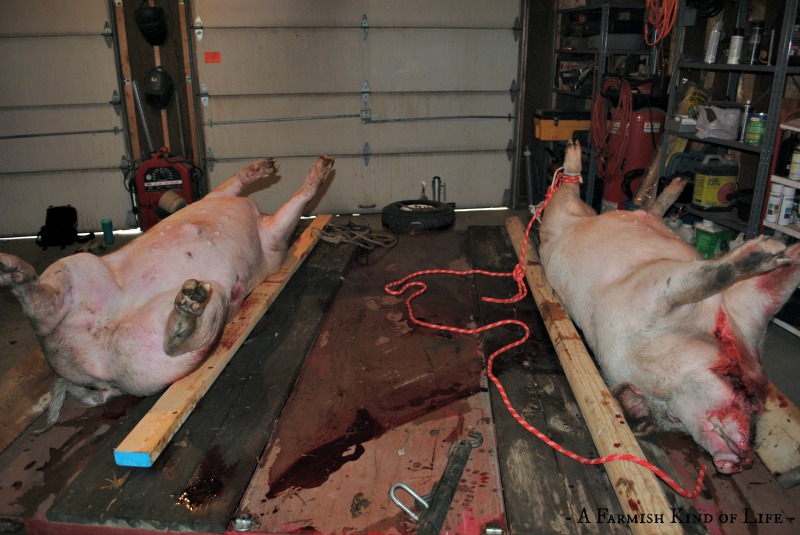 Then it was time to skin. A pig is different than skinning a deer. I've been told a pig is more like skinning a bear (but I've never skun a bear, so I'm not sure). We were told by several people that skinning a hog is the worst part, but we didn't think it was all that bad.
With a deer it's easy to tell where the skin is and where the muscle is because they are very different in color. It's a bit harder to tell where the line is between skin/fat/muscle is on a pig, but you figure it out as you go.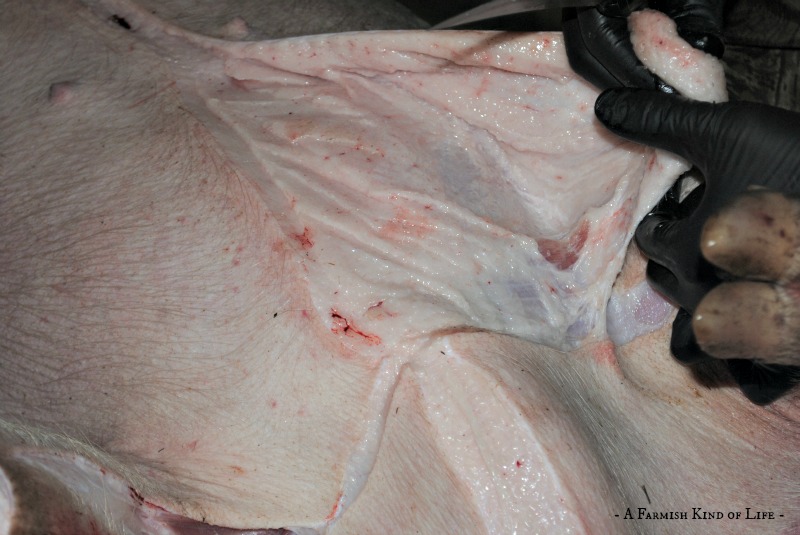 Eventually, the skin is only attached to the pigs back, and is draped over the sides of the trailer. It works out pretty slick.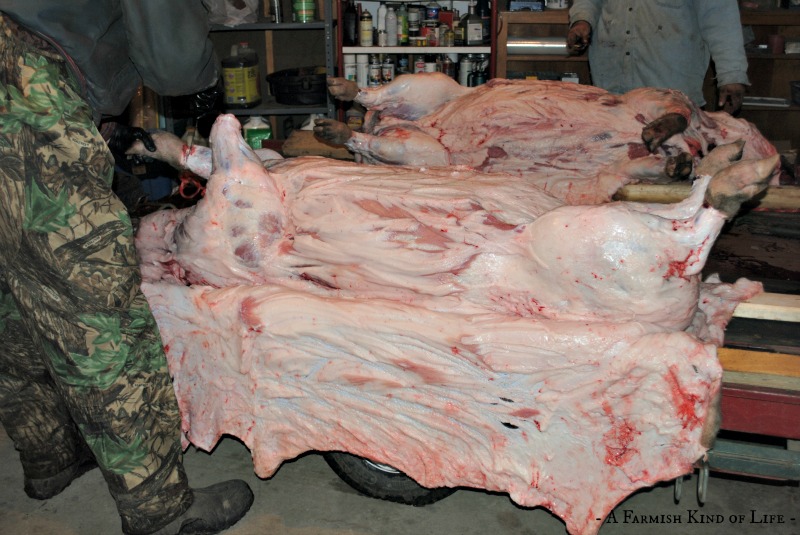 Our original plan was to hang the pig in the garage to finish skinning and gutting but we discovered we couldn't get a 400 pound hog to the rafters with our set up. So back to the skid loader we went.
How to Butcher a Pig: Gutting/Evisceration
The skinning was completed…
Next it was time to take out the insides, which to me is really quite interesting. Talk about an anatomy lesson!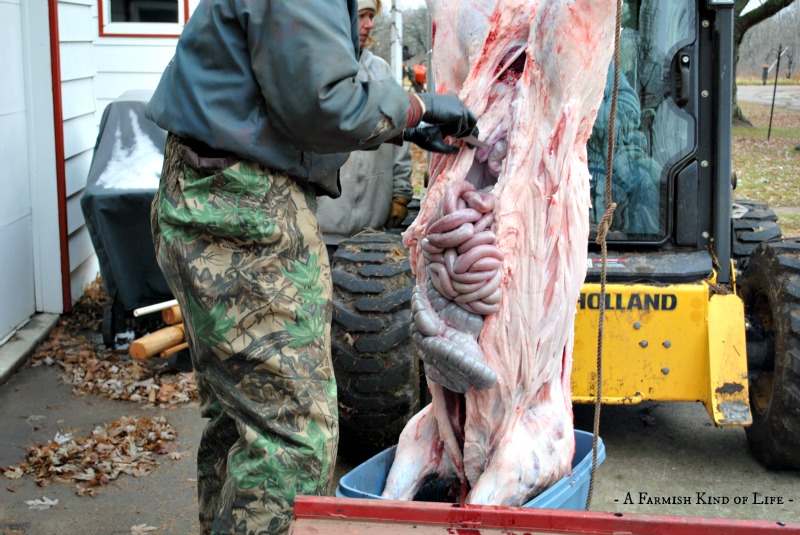 At this point, the head was taken off with a meat saw. I have no pictures though, because it took two people holding the pig steady for one person to cut the head off.
Lastly, we halved the hog. My husband made a shallow line with his knife along the backbone, and then did the real cutting with a meat saw, careful to stay right on the backbone, basically splitting the backbone in two vertically.
Sawing through a backbone is hard work.
How to Butcher a Pig: Hanging overnight
The pigs were then hung in the garage overnight. We were told if we tried to immediately take cuts of meat, it would be too soft to cut. It was suggested to let the pork hang overnight to firm up.
And that is our first day of hog butchering. We started this process (with one pig after another) at 1 pm and were done before supper. Not bad for our first time doing hogs.
My suggestions for anyone attempting this:
a) make sure you have good strong rope. Ropes break. I'm just sayin'.
b) make sure you have dish soap. Pig fat doesn't come off knives if you're suddenly out of dish soap. (Ask me how I know.)
c) even with a skid loader, this first day of hog butchering is physical work. Eat your Wheaties and get some rest.
---
---