Black Bean Brownies in a Blender
A Farmish Kind of Life is a participant in the Amazon Services LLC Associates Program, an affiliate advertising program designed to provide a means for sites to earn advertising fees by advertising and linking to Amazon.com. You can view our full affiliate disclosure here.
Sometimes we crave brownies. One of my favorite brownie recipes to pull out of my recipe box is Black Bean Brownies in a Blender. (Scroll to the bottom for a printable recipe!)
Brownies. Made with black beans instead of flour. Crazy, right?
What's even more awesome is that they're made in a blender. Can you say easy?
E-a-s-y.
Black Bean Brownies in a Blender are gluten-free and dairy-free which make them great for your friends (or you!) on a special diet. I'm glad to have this option when I'm baking for my friends who need gluten-free and/or dairy-free treats.
I don't follow a gluten-free or dairy-free diet, but I do still really like these brownies! They're super easy, and I like the taste and texture. It may be my imagination, but I even think they're a bit more filling and satisfying that a regular ol' brownie.
Ingredients for Black Bean Brownies in a Blender
1 can black beans, drained and rinsed (15.5 oz)
3 eggs
3 Tbsp olive oil
1/3 cup cocoa powder
1/4 tsp salt
1 tsp vanilla
3/4 cup brown sugar
1/2 cup chocolate chips (optional)
How to make them:
Preheat the oven to 350 and grease an 8×8 pan. (I prefer to use homemade lard, but you can use whatever you'd like!)
Dump all ingredients (except for the chocolate chips) for black bean brownies in a blender. Order doesn't really matter, but I usually put the beans in first.
Blend it up until it's smooth. It's going to look much runnier than it actually is, so don't worry! You haven't done anything wrong.
Pour the batter into your greased pan. If you're going to add chocolate chips, now is the time—sprinkle them over the top of the batter.
Bake this pan of chocolatey brownie goodness for 30 minutes at 350 degrees.
The texture of these black bean brownies leans away from cakey and more towards fudgey. They're the perfect bit of chocolate goodness to treat yourself to after a long day of work on the homestead. And with a base of black beans, they've certainly got more protein and oomph than your regular ol' cakey brownie.
Enjoy these black bean brownies! All your hard work deserves a little treat. 😉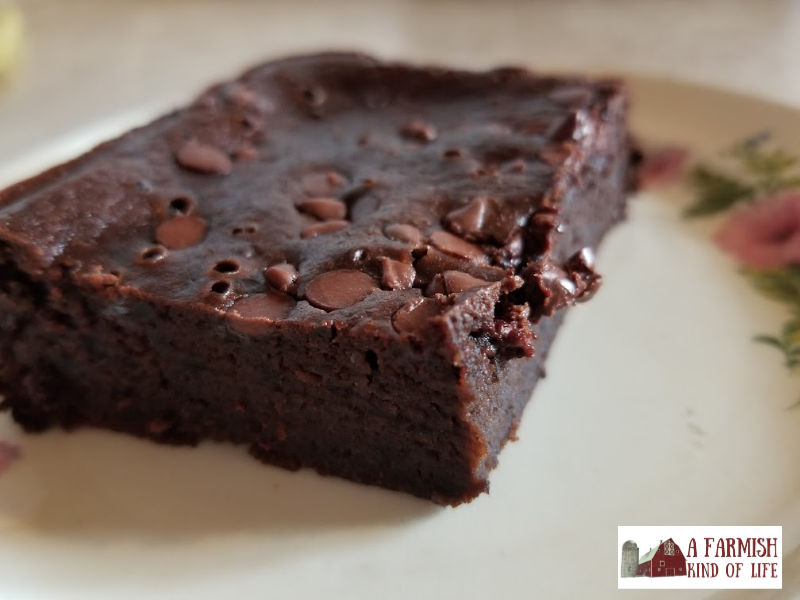 Black Bean Brownies in a blender
An easy recipe for fudgey brownies that uses black beans instead of flour.
Ingredients
1

(15.5 oz) can

black beans

(drained and rinsed)

3

eggs

3

Tbsp

olive oil

1/3

cup

cocoa powder

1/4

tsp

salt

1

tsp

vanilla

3/4

cup

brown sugar

1/2

cup

chocolate chips

(optional)
Instructions
Preheat oven to 350 degrees. Grease an 8×8 inch pan

Put all ingredients (except for the optional chocolate chips) into a blender. Mix until smooth.

Pour batter into greased pan. Sprinkle top with chocolate chips.

Bake for 30 minutes. Cool and cut into 12 or 16 squares.
Find more goodies from A Farmish Kind of Life:

Videos: YouTube, Odyssey, and TikTok
Social media: Facebook, Instagram, MeWe
Podcast: here on the site or subscribe in your favorite podcast app
Books by me, Amy Dingmann: My books
---
---