Homemade Egg Nog for Two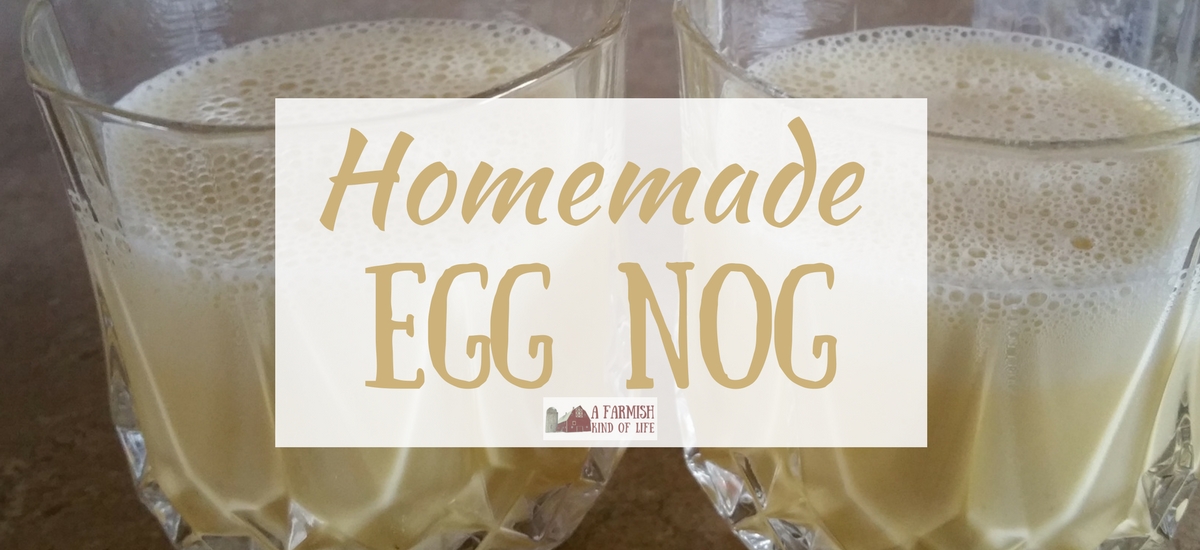 A Farmish Kind of Life is a participant in the Amazon Services LLC Associates Program, an affiliate advertising program designed to provide a means for sites to earn advertising fees by advertising and linking to Amazon.com. You can view our full affiliate disclosure here.
Let's talk about egg nog. Homemade egg nog, to be precise.
I'm a huge fan of egg nog. As a kid, one of my favorite things about the coming Christmas season was checking the dairy cooler during every single grocery shopping trip to see if they had finally put the egg nog out for sale.
Mmmmm. Egg nog.
The great thing about getting older is:
a) they are putting egg nog in the dairy coolers much earlier these days, and,
b) I discovered how to make my own egg nog.
Yes, that's right.
At home.
From scratch.
Homemade egg nog. It's a thing.
Before I tell you how, I need to put a disclaimer here. This recipe contains raw eggs.
If you're not comfy with ingesting raw eggs straight from the coop, you'll need to modify the ingredients a bit—perhaps look for store-bought pasteurized eggs to use instead.
For the record, I've been making this egg nog recipe for nearly a decade—first with regular ol' eggs from the store and now with eggs from my coop—and I have enjoyed every last drop without any salmonella goonies invading my body.
Homemade Egg Nog — What You Need:
2 eggs
2/3 cup milk, heavy whipping cream, or vanilla ice cream
1/3 cup sugar (The older I get, the less sugar I use. 1/3 cup makes it pretty sweet. Also, if you're using ice cream, omit the sugar completely.)
1 tsp vanilla
1/2 tsp nutmeg
Homemade Egg Nog — What To Do:
It's simple, Jack. Put all the ingredients in a blender. (A single serving sized blender works great for this!)
Now, press the button and mix it all up. It's easy! This will make enough egg nog for you and a friend.
If you're so inclined, you can add a shot of rum.
But, how do you get really thick homemade egg nog?
Well, friend, you've got a few options.
Egg nog sold at the store is usually pretty thick. Using milk in this recipe is obviously not going to mimic that consistency.
Using heavy cream makes it rich and creamy—heavenly delicious, even—but still not the consistency of store egg nog.
Using ice cream is scrumptious and gets you the closest—especially if you let it sit for just a bit before you sit down to enjoy it. But if you drink it too fast, it teeters on the consistency of a shake.
In short, I'm not sure how the store-bought egg nog gets its consistency (and perhaps I don't want to know) but any of the above ingredient choices—milk, heavy whipping cream, or ice cream—will give you a glass of yum-tastic homemade egg nog delight.
Ask me how I know.
Homemade Egg Nog for Two
Ingredients
2

eggs

2/3

cup

milk, heavy whipping cream, or vanilla ice cream

1/3

cup

sugar

(or to taste)

1

tsp.

vanilla

1/2

tsp.

nutmeg
Instructions
1. Put all ingredients in a blender. Mix until well combined.
2. If you're so inclined, add a shot of rum.
NOTE: Using milk, heavy cream, or ice cream will result in different consistencies in your homemade egg nog, but all are equally as yummy.
Need a few more reasons to hang in the kitchen today? You can try some of my favorites!
Ice Cream Caramel Rolls: Special Breakfast Treat
Amish Coffee Cake: There's Coffee IN the Batter
Old Fashioned Fruit Cocktail Cake
Find More Goodies from A Farmish Kind of Life:
Videos: YouTube, Odysee, TikTok
Social media: Telegram, Flote, MeWe, Facebook, Instagram,
Podcast: here on the site or subscribe in your favorite podcast app
Books by me, Amy Dingmann: My books
---
---