How to Build a Round Pen for Next to Nothing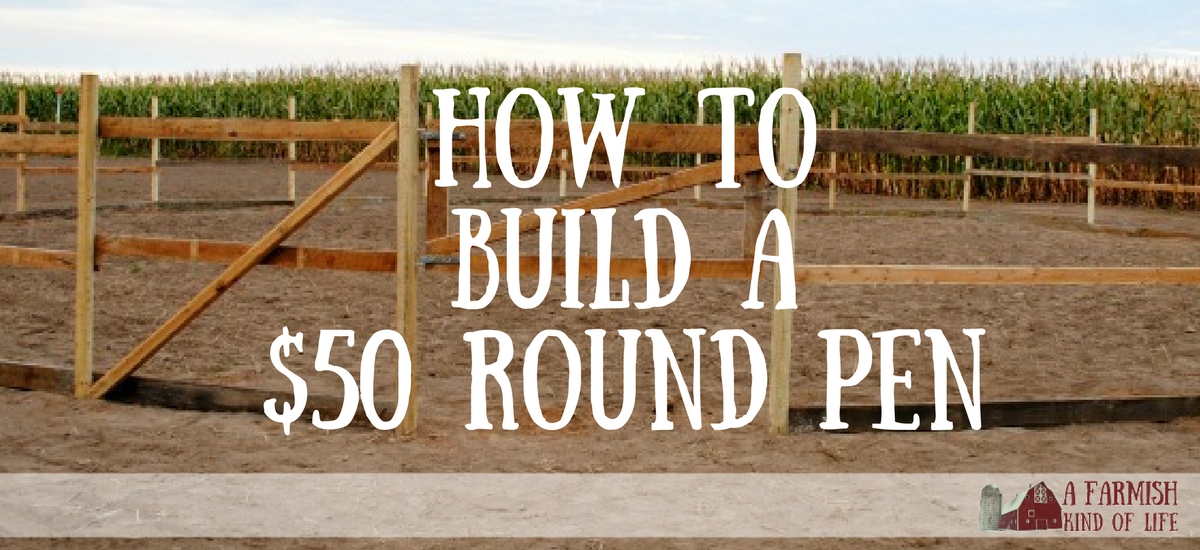 A Farmish Kind of Life is a participant in the Amazon Services LLC Associates Program, an affiliate advertising program designed to provide a means for sites to earn advertising fees by advertising and linking to Amazon.com. You can view our full affiliate disclosure here.
Note: We haven't had horses at Clucky Dickens Farm for a few years. Because of that, I had taken this post off my site. But since nothing actually ever leaves the internet, I often get emails from folks asking where the article is. Pinterest and backlinks from other sites prove it once existed. So I once again present to you our post on how to build a round pen for cheap with the caveat that we no longer have horses, and the round pen has since been taken down. However, it worked great when we still had our horses!
My husband decided this spot would be nice for a round pen. He announced, "I'm going to build a round pen."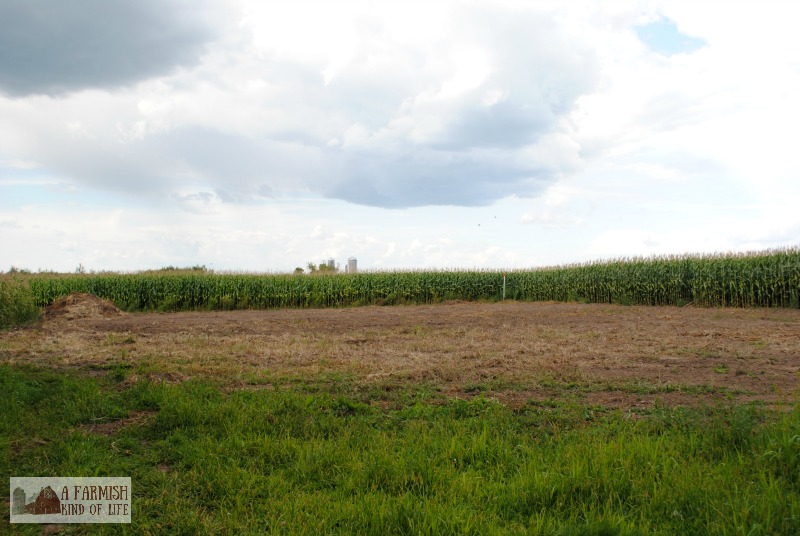 I, however,  immediately imagined lots of dollar signs flying from our bank account.
He could sense my concern about the cost, and assured me, "It's only going to cost $50."
Fifty bucks? Are you kidding me?
But he was right.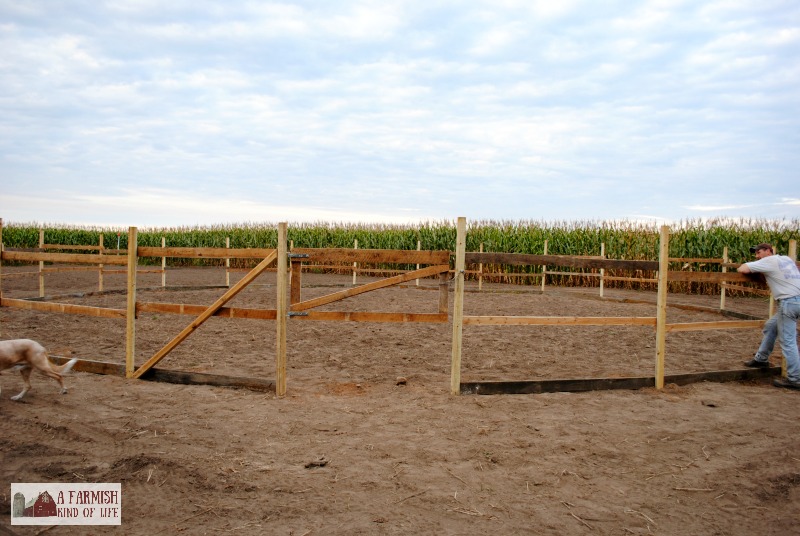 How to you build a round pen for $50?
Well, let me tell you.
It was $50 for the 8 foot landscaping timbers used as vertical posts (when we built this in 2012). The rest of the stuff we used was salvaged from around the farm from projects we'd already completed, or things we'd taken apart and saved materials from.
Reusing and re-purposing is the name of the game when you're a homesteader, and that's the surest way you're going to build a round pen for cheap.
As far as measurements on this round pen, I can't help you there. We no longer have horses and the round pen is no longer standing—that space now has apple trees and a patch of clover.
I do remember that we wanted the round pen to be a certain size. We marked the center and stood there, measuring out so many feet from center around in a circular shape until we'd marked out the perimeter of the round pen.
We dug holes with a post hole digger and then set the posts into the ground 18 inches or so. We did not have to use concrete in the holes, but you certainly can if you'd like.
After setting the landscape timbers in the ground and making sure they were level—not leaning one way or the other—we screwed 2x6s (8ft long) to the posts around the bottom perimeter. This supported the structure, and also helped keep the sand in the round pen.
We then screwed 1x4s (8 ft long) to the posts around the middle perimeter, off setting them at every other post — one set of 1x4s high, then the next set lower.
Next we had to build a gate.
We also added a landscape timber diagonally to the left of the gate—it provided additional oomph to support the weight from the gate on the vertical post it was hinged to.
The gate was built simply: two hinges on a rectangular frame with one diagonal board across the middle to keep it from shifting. The latch was a piece of chain that could be wrapped around both the gate and the vertical post next to it and then secured with a hook.
Because, yo. Using what we had.
…which is really the point of this round pen. We used what we had access to. Use this round pen to spark ideas for how you can build your own.
Remember, your round pen can be whatever size you want it to be, and the size will mostly likely be determined by what kind of training you're planning to do within it. I have no measurements from the one we built.
Keeping that in mind, here are our estimates to build this round pen in 2017 without having access to any of the salvaged items we used. **
2017 costs, non-salvaged materials
Landscape timbers: $3.95 each (In 2012, we purchased 25 at 1.99 each.)
Quikrete/concrete for setting posts: $3.90 per bag (In 2012, we did not set our posts in concrete.)
Treated 2x6x8s for bottom perimeter of the pen: $5.94 each (In 2012, we used 25-26 boards, salvaged.)
Treated 1x4x8s for the middle perimeter of the pen: $2.99 each (In 2012, we used 50-52 boards, salvaged.)
1x4x8s to make gate: $2.99 each (In 2012, we used 2-3 more salvaged 1x4s to make the gate.)
(Not sure how to make a gate? You can modify the directions I posted here in How to Make a Garden Gate!)
Gate hinges: $5.79 each (In 2012, we used two latches that were salvaged from another project.)
Gate latch: $6.75 (In 2012, we used a piece of salvaged chain and a hook.)
** Remember, these costs are only approximate and will probably be different depending on where you buy your lumber locally.
All in all, the round pen served our purposes for the time that we needed it. We never had a horse escape or jump out or bust through the sides.
It looked good, it didn't break the bank, and it worked!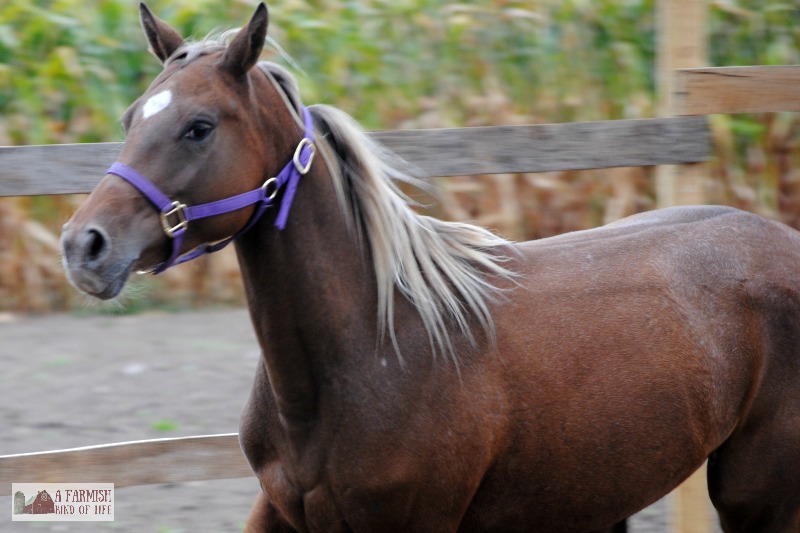 If you build a round pen, either similar to this design or different, be sure to tell us about it in the comments!
---
---